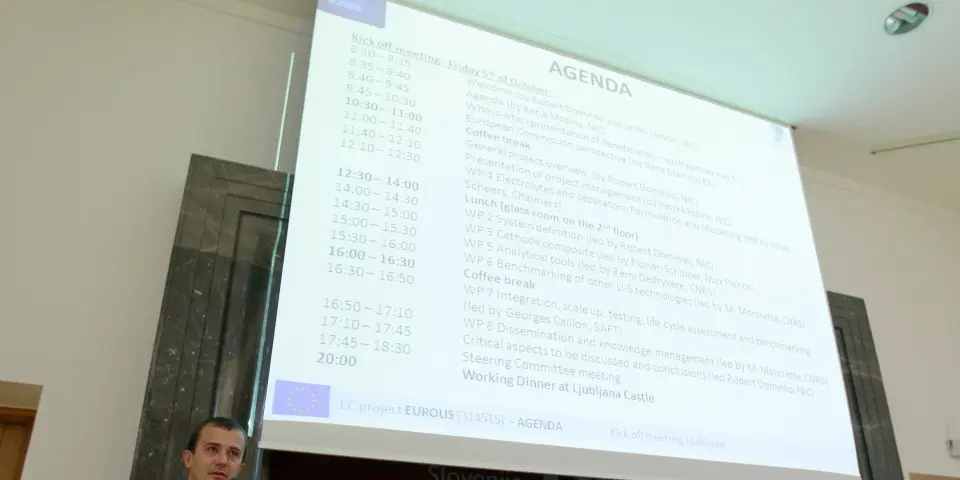 Chemistry Institute Developing New Generation Car Batteries
Ljubljana, 9 January - A team of Chemistry Institute researchers headed by Robert Dominko is developing two types of new electric car batteries; sustainable magnesium batteries are being developed in cooperation with the Japanese car maker Honda, while a new generation of lithium-sulphur batteries is being developed in cooperation with European partners.
Magnesium batteries are to be sustainable both in terms of environment and in terms of the materials used to make them, while the lithium-sulphur batteries are expected to perform significantly better than existing technology, and at half the price.
The lithium-sulphur batteries development is a European project worth nearly EUR 4m. It includes seven academic institutions and four industrial partners - car makers Renault and Volvo, as well as batteries maker Saft and chemical company Solvionic.
The goal of the project is to develop a new generation of electric car batteries that will be three- to four times more powerful and available at about half the price of lithium-ion batteries used in electric cars today. They are expected to make between 500 and 800 kilometres on a single charge.
Dominko however pointed out that lithium-based batteries could become problematic due to geopolitical issues. As the number of electric cars will increase, so will demand for lithium, which is however only available in very few countries.
"The problem with lithium concentrations high enough for commercial exploitation is that it is not evenly distributed in geopolitical terms. Countries richest in lithium are Bolivia, Chile and Afghanistan, so modern-day mobility could result in a new Kuwait, new Iraq and new problems on the global level," said Dominko.
Japan is very aware of this, investing a lot of money in development of magnesium-based batteries, as the element is much more evenly distributed. "Slovenia's magnesium spring in Rogaška Slatina alone could fuel Europe's production given appropriate technology," Dominko said.
Thus the Chemistry Institute is working on an entirely new concept of magnesium-based car batteries. These could theoretically compare to the lithium-ion batteries in terms of performance, but would be lighter, more sustainable and cheaper.
The ultimate goal of the Honda project is to introduce magnesium batteries in the cars of the future. "It is not completely clear whether these will be electric vehicles or whether the magnesium battery would only complement hydrogen fuel cells when driving long distances," said Dominko. The third option would be to have magnesium batteries installed in city cars.
Despite working on car batteries for the future, Dominko finds it very hard to forecast what the mobility will look like in the future. "Several technologies are possible - we should not forget gas - there is still enough of it for future generations, but it comes with geopolitical issues," said Dominko.
He believes that electric cars will thrive in cities, as big cities will be able to diminish pollution easily this way. Electric cars will also allow long-distance drives, but owners will continue to face long charging periods - these remain relatively high at a minimum of half an hour even with the most advanced vehicles.