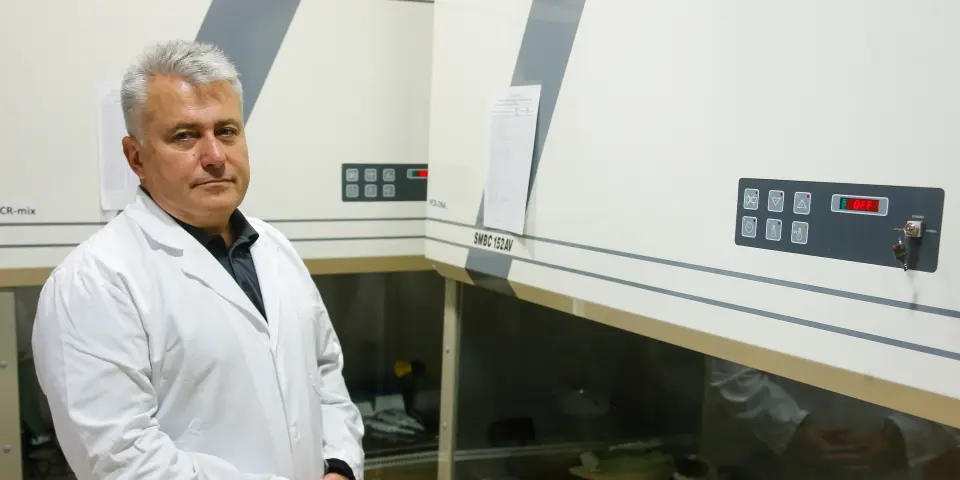 Cell therapy could be used to treat severe autoimmune diseases
Ljubljana, 27 November - Stem cells have become a new paradigm in medicine. As in every new paradigm, it takes some time to establish its potential and safety aspects, according to Miomir Knežević, the director of the biotech company Educell and medical director of the cord blood bank Biobanka. The knowledge obtained in research of mesenchymal stem cells made it possible to respond to the need for cell therapy in the treatment of severe immune diseases, such as graft-versus-host disease, which is the most frequent cause of death in stem cell transplantation.

"These cultivated cells of another donor can effectively slow down an illness and help a person recover or turn their acute illness into chronic and non-dangerous illness," Knežević explained. Educell cooperates in further application of the therapy, which will also be used for treatment of severe autoimmune diseases, such as Crohn's disease, rheumatoid arthritis and lupus, with various departments of the Ljubljana University Medical Centre (UKC Ljubljana).
The treatment relies on a special type of stem cells: self-renewing multi-potent mesenchymal stem cells, which can develop in the body and in laboratories into different types of cells, including bone, cartilage, muscle, fat and connective tissue. A standard source of these cells is bone marrow, while they are also found in fat tissue and umbilical cord blood.
Research of stem cells by Educell has resulted in the discovery of exceptionally beneficial features of these cells in fat tissue, which is why the company developed a method for isolation of mesenchymal stem cells from fat tissue. This method can be used both in cosmetic surgery and in regenerative medicine, for example in orthopedics. The method is currently being tested, and is expected to be placed on the market soon.
Long-term side effects in treatment with stem cells are not known as extensively as side effects of traditional medicine, which is why its is important to insist on research. "There have been cases of non-critical use of stem cells in the past, which inspired false hope in people that this will bring a solution overnight, that they will start walking again after two, three doses of stem cells," Knežević explained.
"The only thing that helps is science, which is why it is important that agencies and state institutions and other funders invest a lot of money in development so that the development of new products is sped up."
Knežević sees the future of medical treatment in personalised medicine. He believes that the fact that not all people are the same has still not been accepted in the field of medicinal products, as most treatments still rely on body weight rather than other characteristics. "We will not move past this method of treatment overnight, but gradually. The main goal of treatment is recovery, because many times, as the pharmaceutical industry itself has admitted, only the symptoms of illness are being treated but not necessarily the causes."
The main challenge for the company, which is built on development and research, is to acquire adequate stem cells and preserve their multiplication properties while focusing on the development of a specific tissue. The company has also patented elaborate medical devices for isolation of stem cells, and develops technologies for more successful freezing of these cells and new technologies enabling multiplication of cells by several thousand times without compromising their properties.
Educell is planning to expand its laboratories in order to reach a complete pharmaceutical standards. "In this way only we will be able to send these cells anywhere around the world, as they will be declared as a medicinal product."
Knežević would like to see more investment in development and research in this field in Slovenia, which according to him is expected of a country of such a small size. "It is important not to remain small in our heads," he is convinced.
About Educell
The Educell company was established in 1997 with the purpose of cultivation of autologous (an individual being both donor and recipient) cartilage cells for treatment of cartilage injuries in the Ljubljana University Medical Centre. It was among the pioneers of the method on the global regenerative medicine market.
The company has since developed several other products, including products for treatment of some rare urologic diseases, and it has also invested significant funds and time in research of various types of stem cells, in particular adult mesenchymal stem cells. Today the company is one of the leading laboratories in Slovenia for preparing human cell therapies.
Educell shares its premises with the cord blood bank Biobanka, with the two carrying out joint research and development of new products for cell therapy in the future, as Biobanka has an extensive knowledge base on various sources and types of stem cells. Both companies have been licensed by the public Agency for Medicine and Medical Devices as "institutions for tissues and cells". Educell is also the founder of the start-up company Cell Try, which performs tests on the basis of cultures of human cells for various anti-inflammatory products, new biomaterials, their degradability and compatibility with humans, and by doing so reduces costs and increases safety of new products.
More than half of the employees in Educell are doctors of science in the fields of microbiology, biotechnology, pharmacy and biology. Educell's technology has enabled research for several doctoral theses in medicine, while many former Educell staff members have found new employment in high-ranking posts in the pharmaceutical industry, universities and public institutes. In its research work, the company cooperates with a number of international institutions and companies, including Columbia University from New York, the Worcester Polytechnic Institute (WPI), King's College, and several Swiss companies and other globally recognised institutes and universities. Many collaborations are the result of European and bilateral projects, where Educell has been very active.
The company is also turning east, according to Knežević. It has partners in India and China, while the strongest and most technologically demanding cooperation takes place with multinational companies from Japan, which have shown the biggest interest for Educell's technology and methods.
Collaboration diagram for Miomir Knežević
Vir: ScienceAtlas.org