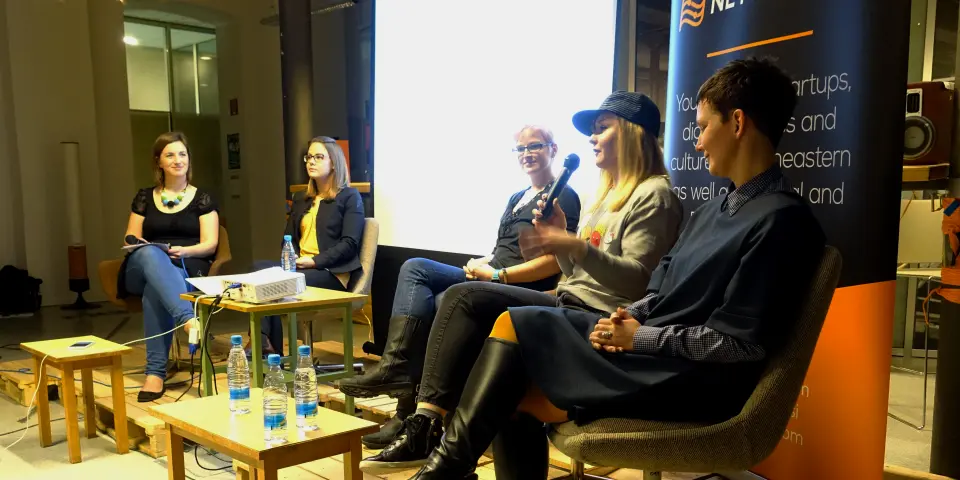 Panel: Shift in mindset needed to open IT jobs to women
Ljubljana, 4 March - A shift in the mindset is needed to bring more women into information technology (IT), a panel bringing together women programmers, engineers, hackers and geek girls has heard.
A shift is needed so that companies become aware that employing women in IT jobs makes a good business decision, found the event, dubbed Ladies of the New Business, held in Ljubljana on Thursday.
Eurostat data shows 43,800 information and communication technology (ICT) experts employed in Slovenia in 2014 represented 4.8% of the country's workforce, which compares to the EU average of 3.7%.
Although the proportion of women in the profession is still low, Slovenia also ranked high in terms of the proportion of women among ICT experts at 27.7%, compared to only 18.1% at the level of the whole EU.
"The problem in the IT world is not open sexism but rather hidden remarks and jokes that we have to put up with on a daily basis," said Alja Isaković, a representative of CodeCatz, Rails Girls Ljubljana and Django Girls Ljubljana initiatives offering free computer programming workshops for women.
When a woman takes on the same activity as men, she is valued differently, added Tamara Lah Momčilović, director of Infinum Slovenija and events manager at Mobile Monday Slovenia.
"It's harder to prove that you can do something and it takes longer. It takes a lot of work and effort for the prejudice to disappear."
Imposing female quotas is not an optimal solution as there are better ways to get more women into the IT sector, the ambassador of the European Code Week initiative in Slovenia, Katja K. Ošljak, argued.
"You don't need to worry about having a certain number of girls. You need to make a decision to employ women, who represent half of the population, because they are as good as men," Ošljak said.
"Only this shift can help create a different culture that will appeal to them and will accept them," she said. Isaković added: "We need to prove to companies this is a good business decision, quotas won't work by force."
One of the solutions she offered is for companies to actively look for young women and for a start offer them assistance in the form internship.
A 2014 survey by the European Commission placed Slovenia among the countries with the highest proportion of population without digital skills.
This is only the beginning of the shortfall because of the growing digitalisation across all industries, Ošljak warned.
The Code Week initiative is therefore preparing a plan to introduce computer lessons to primary schools in cooperation with some other organisations, faculties and Ljubljana University.
Entrepreneur Mojca Marš, the owner of communication agency Super Spicy Media, was critical of events intended for women only, arguing that in this way women shut themselves off instead of gaining equality.
The Ladies of the New Business event in Ljubljana was organised by the online technological media outlet Netokracija. It was followed by a similar event in Zagreb today and Belgrade next week.