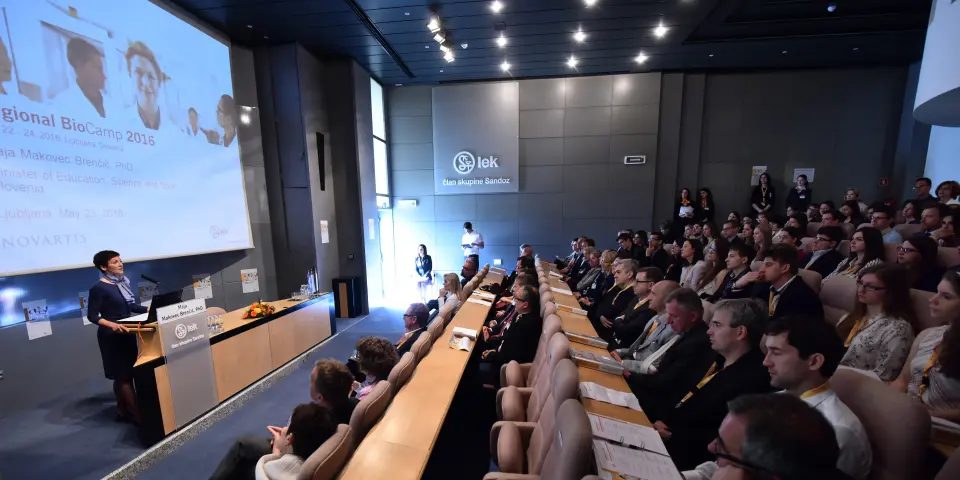 Regional BioCamp gets under way to promote work in pharma industry
Ljubljana, 23 May - The Regional BioCamp 2016 forum got under way on Monday to bring together selected top students, distinguished experts and top managers. Organised by pharma company Lek, the event was described by Lek chairman Vojmir Urlep as a sneak-peak into the industry for promising students.
This year's event, focused on modern ways of treating pulmonary diseases, has a special weight for Lek, as it is the company's 70th anniversary and the 20th anniversary of Lek's owner Novartis, explained Darja Ferčej Temeljotov.
"During this time, we have developed a fruitful cooperation with the academia and significantly contributed to the professional, scientific, social and economic progress at the national as well as international level," she stressed.
Education, Science and Sport Minister Maja Makovec Brenčič meanwhile highlighted the importance of such events, as young people's talents, devotion, motivation and creativity were the key for the future.
Today's happening at the forum included several lectures of Slovenian and foreign experts about their experience as well as trends in pharmaceuticals and biopharmaceuticals, nanobiotechnology and molecular biology.
Some 100 young scientists applied for this year's event. Experts from the Sandoz group, whose member is Lek, picked 35 of them from 11 countries.
As part of the forum, the participants will draft a business plan for launching a pharmaceutical and two winners will get to compete at the international BioCamp in Basel, Switzerland. So far, two Slovenian competitors have won the global BioCamp competition.