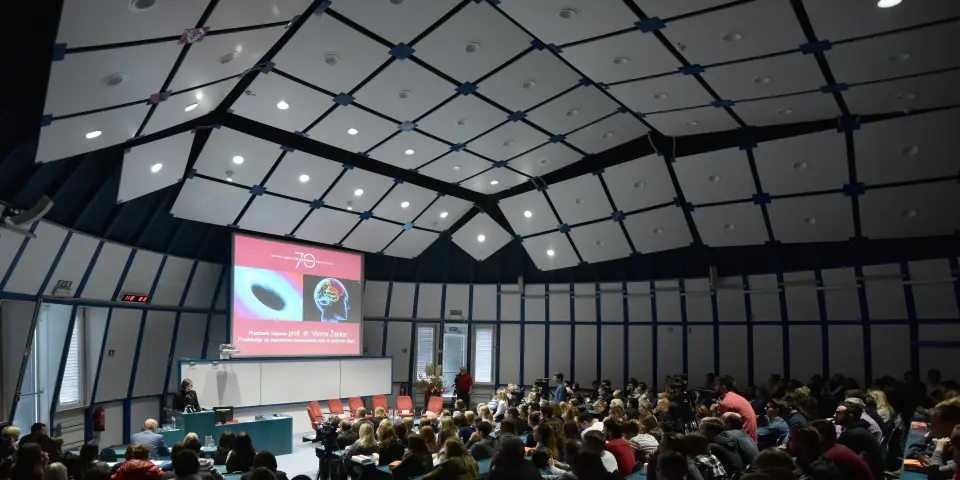 Ljubljana Faculty of Economics marks 70th anniversary
Ljubljana, 18 October - The Ljubljana Faculty of Economics is hosting a week of events to celebrate the 70th anniversary of its establishment. As part of the celebration, the faculty hosted on Tuesday a round table on the history, relevance and future of economic studies.

The debate, entitled From a Socialist Black Hole to Neuroeconomics, featured Reinhilde Veugelers from the European Research Council (ERC), who presented the role of the ERC in the financing of research, and Slovenia's role in the European research area.
Igor Masten talked about projections, one of the defining characteristics of applied sciences. "We make projections so that economic policies respond adequately. However, the problem here is that these policies are in the hands of people who do not take action or take action too late due to various restrictions," he said.
Mateja Drnovšek, another professor at the faculty, said that knowledge in social sciences was hard to disseminate, but it could be done by sharing knowledge and enthusiasm among students, and by interacting with companies that come to the faculty.
CEO of retailer Mercator Toni Balažič highlighted the role of the scientific approach towards business and theoretical knowledge. He believes that the latter gives companies a desire for research, without which a company cannot develop.
According to him, ethics in economy and businesses develop early in childhood, as one's values have a key effect on one's business decisions. He believes that the business decisions of Slovenian companies in the past were not necessarily unethical, but they were not professional either.
Tea Petrin, former Economy Minister and current professor at the faculty, presented the results of studies which showed that the public generally see entrepreneurs as cheats and fraudsters. "However, reality proves otherwise, so I hope that the public opinion changes as well," she said.
The debate also touched upon the connection of economy and neuroscience, which, according to Drnovšek, opens doors to new research methods. Faculty professor Aljoša Valentinčič warned, however, that these new methods should not replace good research.
Today's programme also saw the release of a special issue of the faculty's research journal, the Economic and Business Review (EBR).
The anniversary celebrations got under way on Monday with a photo exhibition showcasing archival photos which present 70 years of research, education and development at the Faculty of Economics.
Wednesday will see another round table debate take place entitled EU 2025 - Economic Future and the Political Fate of European Integrations. Celebrations will close on Thursday with a formal gathering of faculty employees and guests.
The Faculty of Economics was established in 1946 under the University of Ljubljana and soon became one of the most important educational institutions in the region.
Since the faculty's establishment, almost 40,000 have graduated with a bachelor's degree, more than 6,700 have earned a master's degree and 400 have earned PhDs.