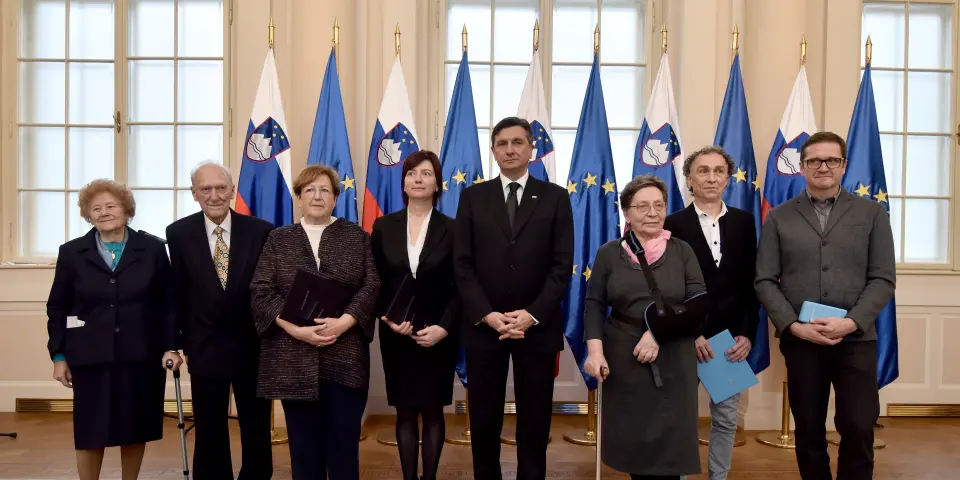 President honours scientific, cultural achievements
Ljubljana, 12 December - President Borut Pahor honoured scientific and cultural achievements as he conferred decorations on Monday on a journal, several historians, and individuals credited with promoting Slovenian culture.
The journal Acta Carsologica was conferred the order for merits for its extraordinary contribution to the development of karst studies in Slovenia and globally.
Funded 60 years ago, it has grown into the leading publication for karst studies in the world and its international editorial board is staffed by leading authorities on the karst, the president's office said.
Professor emeritus Ignacij Voje received the medal for merits for his contribution to the development of historiography with his studies of medieval history of Slovenia and SE Europe.
Another professor emeritus, Zinka Zorko, who is best known for her work on Slovenian dialects, received the medal for merits for her contribution to Slovenian studies.
Two women were honoured for their work preserving Slovenian language and culture and Italy.
Živa Gruden received the medal for merits for "affirming the foundations of Slovenian cultural and linguistic identity" in Slavia Veneta.
Luigia Negro, a leading promoter of Slovenian culture in Resia, received the medal for merits for her decades-long work trying to preserve the vanishing specific Slovenian dialect in a valley in north-eastern Italy that is home to a community who speaks an archaic dialect of Slovenian.
Another medal for merits was conferred on Urška Gallos, who has translated a significant portion of the Slovenian literary canon into Hungarian.