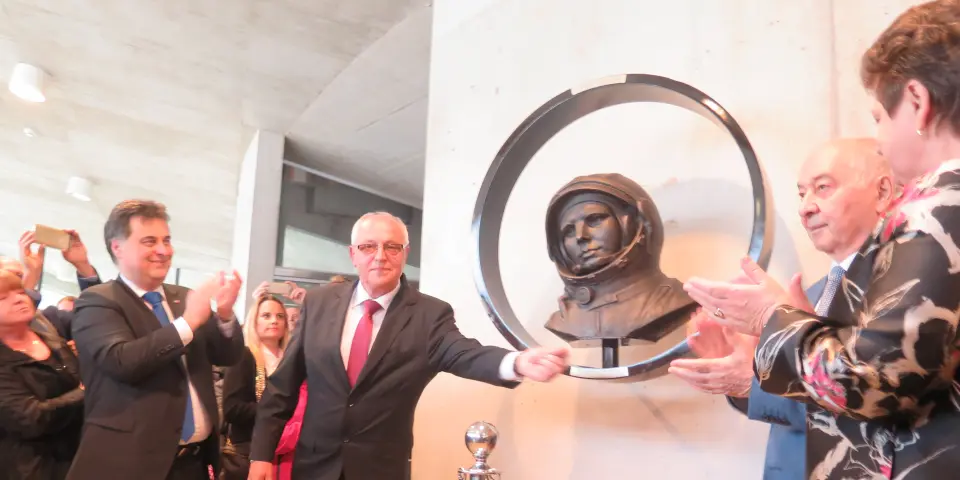 Bust of Gagarin unveiled in Vitanje
Vitanje, 11 April - A bust of Russian cosmonaut Yuri Gagarin was unveiled on Tuesday at the Cultural Centre of European Space Technologies (KSEVT). The ceremony in Vitanje on the eve of International Space Day was attended by cosmonaut and Mayor of Star City Valerij Tokarev.

The name of Yuri Gagarin, the first human to journey into outer space, will be a role model to several generations to come, Tokarev said.
It is these generations that will contribute to the cooperation between the Slovenian and Russian nations, said Torakerv, a test cosmonaut at the Yuri A. Gagarin Cosmonaut Training Centre in the 1990s.
He said that he often got the chance to meet Gagarin's wife Valentina, describing her as a simple and modest person such was Gagarin.
National Council President Mitja Bervar, Russian Ambassador to Slovenia Doku Zavgajev and the governor of the Russian Vladimir Oblast, Svetlana Orlova, also addressed the event, highlighting the importance of cooperation between Slovenia and Russia.
KSEVT founder Dragan Živadinov said that it had been 35 years since Herman Potočnik Noordung rose to fame as a pioneer of space science and almost five years since the opening of KSEVT. Cooperation with the Yuri A. Gagarin Cosmonaut Training Centre has been lasting for almost 20 years, he noted.
By declaring 12 April International Space Day, the UN and the international community have committed to devoting the entire space programme solely to peaceful purposes and KSEVT contributes to this goal by linking space to art and humanities and opening debates and reflection on space, he said.
Gagarin's bust is the work of sculptor Leonov. A cast was also erected at the National Air and Space Museum in Washington in April 2016.
Born in 1934, Yuri Alekseyevich Gagarin was a Russian Soviet officer, army pilot, cosmonaut and journalist. He was the first human to journey into outer space, when his Vostok spacecraft completed an orbit of the Earth on 12 April 1961.
He died on 27 march 1968 during a test flight in difficult weather conditions. A number of buildings and other sites have been named after him as well as a crater on the Moon.