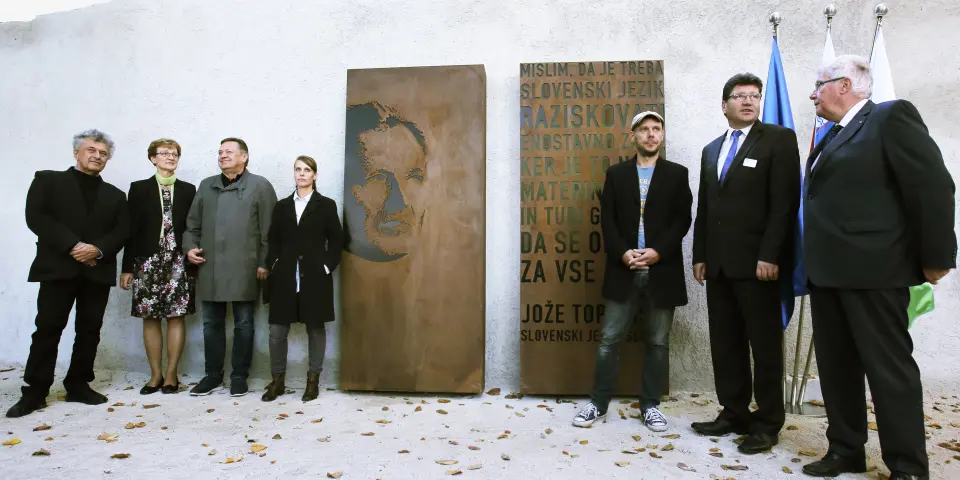 Linguist Toporišič honoured with a memorial
Ljubljana, 18 October - A memorial to Jože Toporišič, Slovenia's most influential linguist of the 20th century, was unveiled on Wednesday in a small park behind the Ljubljana Faculty of Arts, where he worked as professor and head of the Department for Slovenian Language and Stylistics.

Addressing the ceremony on the occasion, President of the Academy of Sciences and Arts (SAZU) Tadej Bajd said that Toporišič's Slovenian Grammar and Guide to Slovenian Orthography would keep him in the memory of Slovenians for generations to come.
He said that Slovenians put up quite a few monuments to emperors, kings and statesmen, which had been removed soon after they lost relevance, but that the memorials honouring Slovenia's literary greats, such as poet France Prešeren or the author of Slovenia's first book Primož Trubar, have been preserved.
The first linguist to be honoured with a monument was Franc Miklošič (1813-1891), almost a century ago, and the SAZU was proud to see the memorial to Toporišič (1926-2014) joining those of fellow linguists and SAZU members Fran Ramovš, Rajko Nahtigal and France Kidrič.
The memorial, comprising two large bronze slabs carrying the linguist's portrait and quotation, was designed by Primož Novak and Nika Oblak. It was put up at the initiative of the committee responsible for the observation of the Toporišič Year from the linguist's village of Mostec near Brežice (E).
Toporišič is best known as the author of the authoritative Slovenian Grammar (1976), which saw numerous reprints and is still the most widely used Slovenian grammar book. He was also known popularly as the inventor of several Slovenian neologisms and co-authored the Guide to Slovene Orthography (2001).
Toporišič was a leading figure in a number of linguistic fields, including morphology, word formation, syntax, stylistics, grammar and notably phonology. He was a researcher of the history of standard Slovenian, and was also active as a critic. He died in December 2014.