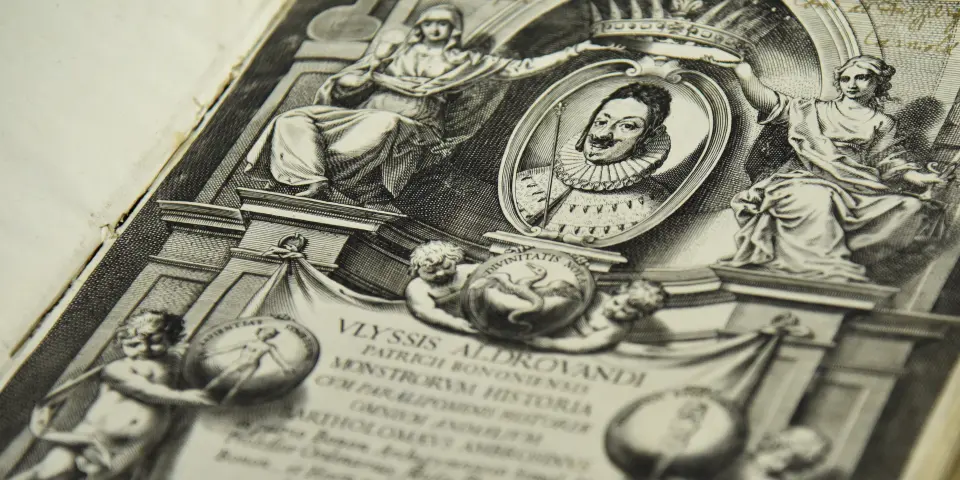 Aldrovandi's Monstrorum Historia returns to Slovenia
Ljubljana, 17 November - A copy of the Monstrorum Historia encyclopedia by Italian naturalist, philosopher and jurist Ulisse Aldrovandi (1522-1605) has returned to Slovenia after more than 120 years, to be housed in the National and University Library (NUK) in Ljubljana.

The book printed in 1642 has actually returned to its original location, as it was a part of an extensive library of the renown Auersperg family which used to stand where the building of the country's largest library was built in 1936-41.
According to NUK director Martina Rozman Salobir, the library found out in the spring that the monumental work by Aldrovandi, the first professor of natural sciences at the University of Bologna, was on sale by a foreign auction house.
After half a year of negotiations, NUK acquired the book through donations, including from the Culture Ministry, to return it to the original location from where it was taken after the 1895 earthquake.
Rozman Salobir said that Monstrorum Historia was particularly important for NUK as it was the only missing part from the collection of Aldrovandi's works from the Auersperg library kept by NUK.
The encyclopedia is a mixture of the ancient and Mediaeval natural science imaginaria and mythology and early scientific methodology in the fields of medicine, zoology and botany.
Sonja Svoljša, who cares for antique books in NUK, explained that the author paid particular attention to various types of deformations in humans and animals, with an emphasis on conjoined twins.
The book also deals with various creatures with atrophied or doubled body parts and examples of human-animal hybrids and mythical creatures, including chimeras, harpies, sphinxes, cyclops, satyrs, gryphons, werewolves and mermaids.
"Among unusual plants we can find deformed flowers, tree trunks, leafs and fruits. In addition to comets and polar lights, the celestial part includes descriptions of various forms of illusions and signs."
Descriptions are supported by almost 500 illustrations and woodcuts made by Bologna painter and printmaker Giovanni Battista Coriolano (cca. 1590-1649), who made a majority of woodcuts for Aldrovandi's works.