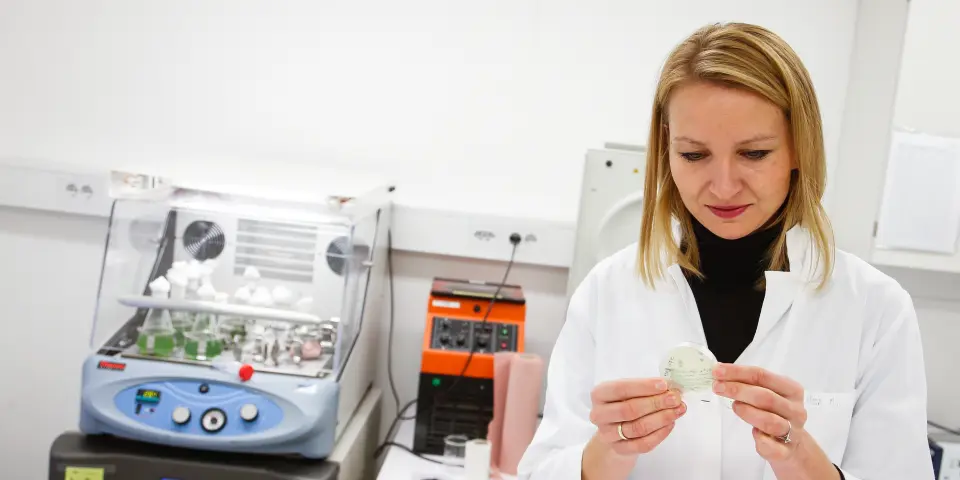 Wine connoisseurs drawn to less known varieties
Vipava, 5 January - Wine drinkers are becoming increasingly interested in the particularities of wine and wine drinking. Indeed, many are shunning traditional varieties in favour of special local varieties, which is a great opportunity for Slovenian wine makers, according to Katja Šuklje, a doctor of viticulture.

Šuklje teaches and does research work at the Nova Gorica University and is also actively involved in her family's wine business.
Alongside her husband, a French oenologist who also teaches at the Nova Gorica University, she recently launched a wine bar in Ljubljana.
"The idea was to combine our knowledge and the passion for discovering new wines, and present it to the broader public," Šuklje said.
She believes that the culture of wine drinking in Slovenia has grown by leaps and bounds in the past few years. "There has been an incredible increase in interest in wine, the ways in which it is enjoyed. People want to learn about wine, not just Slovenian varieties, foreign ones as well."
"More and more people are interested in wine, they take sommelier classes and tasting courses. They are willing to broaden their horizons and try wines they don't know."
She says that wine buyers have become bored with the traditional, international varieties such as Chardonnay, Pinot Noir, Merlot and Cabernet sauvignon.
"These varieties will continue to be grown most widely and will hold the largest market share. But it seems that wine drinkers increasingly look for native, local specialities they did not know before."
"There is great potential for this in Slovenia because we have many local varieties," said Šuklje. One of such variety is Blaufränkisch, which German scientists believe originates from Slovenia.
Rebula a regional Slovenian variety, is also gaining in popularity, said Šuklje. Other lesser known and even more local varieties include Vitovska, Grganja, Pinela and Zelen varieties.
Slovenians have a traditional approach to wine making
Šuklje wrote half of her PhD at the Ljubljana Biotechnical Faculty and the Agricultural Institute, and the other half at the Stellenbosch University in South Africa. She did a part of her post-doctoral research in Australia.
She says that there are significant differences between wine making in Slovenia, South Africa and Australia. One illustration of the differences is the fact that Slovenians do not use the term wine industry.
In Slovenia and in Europe wine making is a tradition and a part of cultural heritage; Slovenians are very traditional when it comes to growing grapes and making wine. "Many people do it because they enjoy it, because they're in it with all their heart."
"In countries like Australia or South Africa, wine makers are not burdened by traditions ... and they are very open to trying new technologies, new varieties, practically anything they believe could help them and boost profitability."
Research
The most important factors for vine growth are temperature, light and water. The latter is becoming increasingly important due to climate change, which has led Šuklje to study the effects of water shortage on vines in different climates.
Water is one of the key issues in agriculture. Šuklje believes that in the future, agriculture will have to compete for water with urban communities.
She says that one of the biggest challenges in viticulture and agriculture in general is the introduction of water recycling and the reduction of the demand for water with new vine varieties.
EnVIRoS project
As part of her post-doctoral research, Šuklje is currently working on EnVIRo, an EU project. She is examining how water shortage stresses vines and how water use can be reduced through the use of new soils and vine varieties, changes in soil salinity, and water recycling.
Study of leaf surface reduction on remobilisation of nutrients
A recently published article examined how a reduction in the surface of leaves affects the remobilisation of nutrient stores in plant stems and roots.
The study examined mechanisms and metabolic changes that cause sugar deposits in grapes despite partial or complete removal of leaves during ripening.
It found that small sugars, which act as signalling molecules, play an important role in the process of nutrient remobilisation. The study revealed a complex and simultaneous response by a number of primary metabolic cycles in vines.
About Katja Šuklje
Šuklje graduated in agronomy at the Ljubljana Biotechnical Faculty. She finished her PhD in 2014 at the Agricultural Institute, the Biotechnical Faculty and the Stellenbosch University in South Africa, having also spent three years as a researcher at the National Wine and Grape Industry Centre of the Charles Sturt University in Australia.
She teaches viticulture at the Nova Gorica University's School of Viticulture and Oenology and is a member of the Centre for Wine Research.