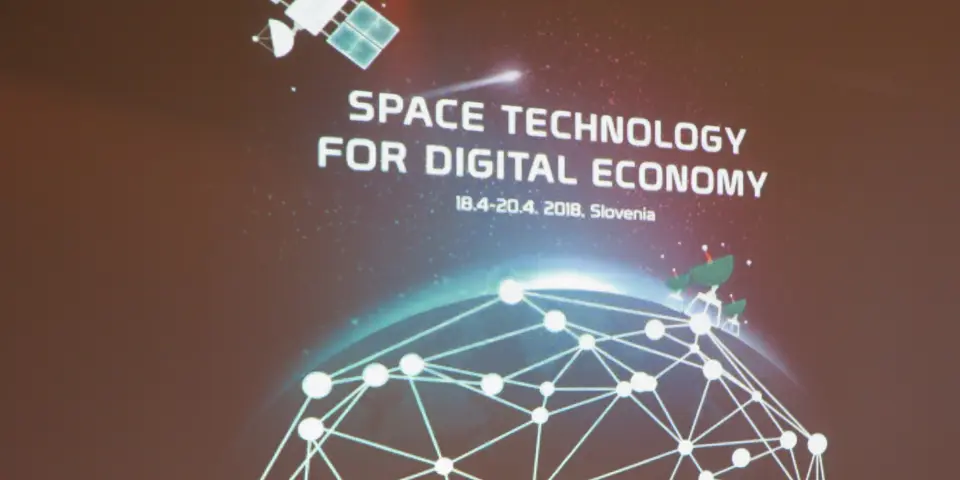 Space tech, digital economy discussed at conference
Vitanje, 19 April - Experts and politicians discussed ways of embracing space technology to create a strong digital economy, as they met for an international conference in Slovenia on Thursday. The event is hosted by the economy ministry together with several Slovenian and Russian partners.

"The conference should facilitate Slovenian companies' activity in space technology, which is very important for the Slovenian economy's technological development," Minister of Economic Development and Technology Zdravko Počivalšek stressed at the 18-20 April conference Space Technology for Digital Economy.
At the end of 2016, Slovenia became an associate member of the European Space Agency (ESA) as a step towards its goal to become a full-fledged member, which provides new opportunities for many Slovenian companies, he stressed.
There are some 40 Slovenian companies active in space technology, and several other Slovenian institutions are interested in the country's ESA membership.
They do business with the most important global partners in the field, also taking part in programmes of the Russian space agency Roscosmos, he stressed.
He also noted the country's information society strategy until 2020 focuses on digital business as one of the priorities with major potential for innovation and growth.
Meanwhile, Public Administration Minister Boris Koprivnikar highlighted Slovenia's goal to become a green reference country in digital Europe and the world.
He noted that space technologies can be used to improve the quality of life and to better manage systems which facilitate new services and business opportunities.
He added that 97% of Slovenia is covered with the LTE technology, while the plan is for 96% of all households to have 100-Mb internet access until 2020.
However, satellite communications are very important and can complement the land infrastructure.
For this purpose, Slovenia has set up the state's cloud computing for the public sector, while an innovation cloud is also in the making, he explained.
But he believes that to treat the digital ecosystem as one ecosystem, artificial intelligence and big data know-how as well as many other technologies are needed.
Koprivnikar also said that the ESA is funding as many as 26 different Slovenian projects.
The conference, held at the Herman Potočnik Noordung Center of Space Technology in the town of Vitanje, NE, was also attended by Russia Minister of Communications and Mass Media Nikolay Nikiforov and Russian Ambassador to Slovenia Doku Zavgayev.
Both stressed the importance of good cooperation and of today's event, which is attended by representatives of Russian state space corporations Roscosmos and URSC.
Nikiforov, stressing they had 16 private satellites in the geostationary orbit which are used for public purposes, said Russia was willing to share information and experience.