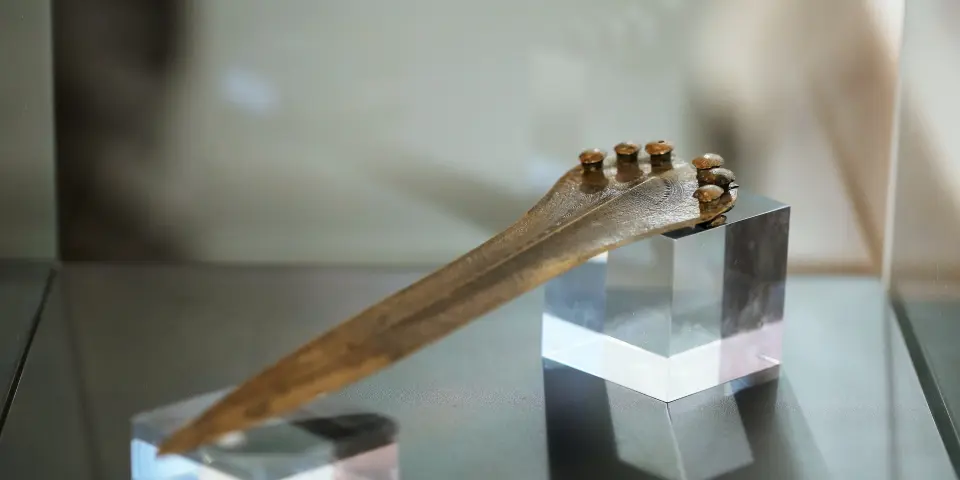 Stolen Bronze Age dagger returns to Slovenia after 33 years
Ljubljana, 11 July - A precious bronze dagger, which dates back around 3,600 years, has been returned to Slovenia 33 years after it was stolen from the National Museum in Ljubljana. The artefact was tracked down by the Interpol at a London auction in 2015 and has been returned via diplomatic route.

The dagger, discovered in 1876 at a former pile dwelling site near Ig in the Ljubljana Marshes, was one among 45 examples of tools, jewellery and weaponry from the Bronze Age stolen from the National Museum in 1985.
The only among the stolen items to be discovered so far was part of Interpol's database of stolen works of art. It appeared at an auction featuring the collection of a deceased British collector who had acquired it at an auction in New York in 2005.
The dagger, which was a symbol of prestige and not part of the ordinary equipment of Bronze Age warriors, is considered extremely valuable for its mint condition and unique ornamentation.
It is a testimony to the craftsmanship in the territory of present-day Slovenia in the 2nd millennium BC, the National Museum wrote.
The museum's director Barbara Ravnik told the press that both auctions at which the dagger appeared featured false information on the artefact, sourcing it to the Duchess of Mecklenburg Collection.
The return to Slovenia was organised via diplomatic route after the prosecution proceedings in Britain fell under the statute of limitations.