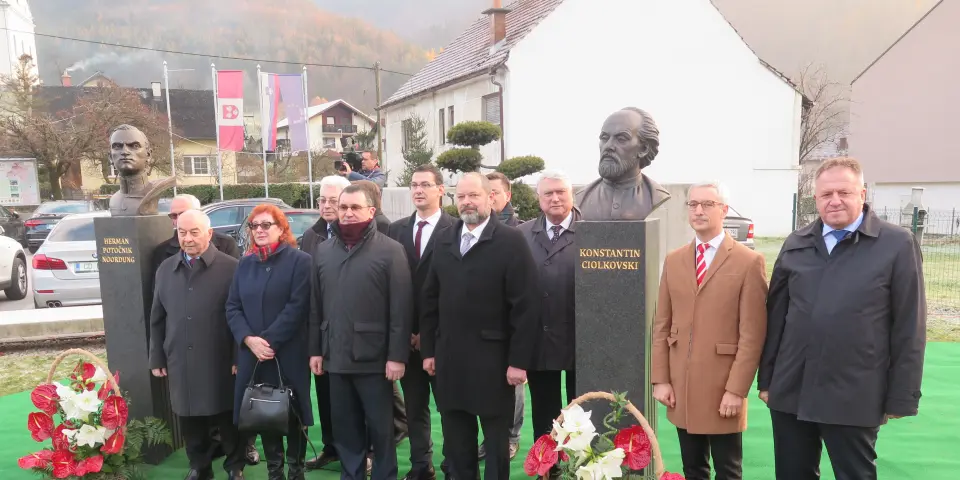 Busts of two space travel pioneers unveiled in Vitanje
Vitanje, 29 November - A number of top Slovenian and Russian officials visited the town of Vitanje on Thursday to unveil the first two busts along the Avenue of Cosmonautic Pioneers in front of the Herman Potočnik-Noordung Space Technology Centre. Russian Ambassador Doku Zavgayev said that this was yet another step in Russia's international cooperation in technology.
Alojz Kovšca, the president of the National Council, and first deputy chair of the Russian Federation Council Nikolay Fyodorov were also on hand for the unveiling of busts of Russian mathematician and rocket scientist Konstantin Tsiolkovsky (1857-1935) and Slovenian rocket engineer Herman Potočnik-Noordung (1892-1929).
Kovšca said that the unveiling placed Slovenia and Vitanje on the map of places honouring the great minds of astronautics.
Slovenians should be proud of Potočnik-Noordung, who, 80 years ago, published The Problem of Space Travel - The Rocket Motor, a pioneering work on space travel, according to Kovšca.
Slovenian Economy Minister Zdravko Počivalšek, Culture Minister Dejan Prešiček, and Education, Science and Sport Minister Jernej Pikalo also attended the event organised by the Vitanje Municipality and the Ljubljana-based Russian Centre for Science and Culture.
Počivalšek noted that the government gave the final go-ahead today for the launch of the country's first satellite to space.
The unveiling also featured a delegation from the Kaluga region in Russia, where Tsiolkovsky worked, and Yuri Baturin, a cosmonaut and a member of the Russian Academy of Sciences.