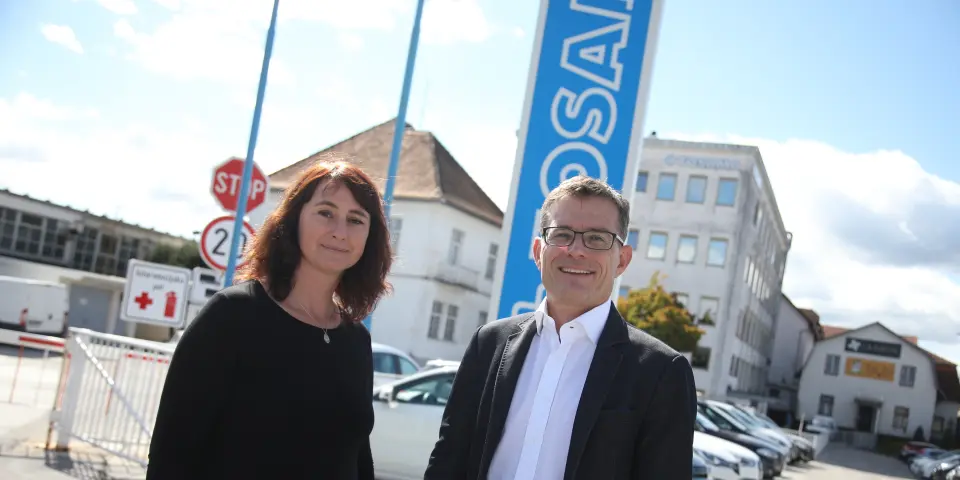 Chestnut honey makes for comprehensive treatment of wounds
Ljubljana, 11 January - Since its inception 95 years ago, Tosama has evolved from a simple workshop into Europe's second largest tampon producer. A versatile company, it offers a wide range of goods, from sanitary pads, baby nappies and wipes, to medical supplies, including honey-based products for treating wounds, a result of Tosama's own R&D.

According to Tosama's product manager Jasna Cerlini, it all started with an idea to heal wounds in a natural way, which gave birth to the Vivamel wound dressings made of brown seaweed and medical chestnut honey, a very effective substance in treating wounds.
The honey is applied to the dressings with a special technology developed by Tosama, as the carrier layer travels through a metering machine which applies the right amount of honey and determines the size of the dressing.
This is then bagged in an aluminium package suitable for sterilisation, which is one of the key features that differentiates medical honey from the regular one.
Andrej Zabret, the head of strategic development at Tosama, noted that sterilisation made the honey more compatible with the wound as it does not cause additional infection.
According to him, Tosama wants to better understand the Carniolan honey bee, an endemic subspecies of the western honey bee, its activities and its response to influences from the environment. This could help the company upgrade the effects of honey in treating wounds.
In addition, the company is researching various carriers for the honey, including cellulose, seaweed and polyurethane carriers.
Honey was used for treating wounds by ancient Egyptians
Cerlini noted that honey had been used for dressing wounds for millennia, as first mentions of the procedure date back to ancient Egypt, to 1500 BC. The Ancient Greeks used honey and it was also known in Indian medicine.
However, honey has lost its appeal with the advent of antibiotics. Now it has regained popularity due to bacteria developing resistance to antibiotics. Its osmotic characteristics make honey antiseptic, which means that bacteria cannot develop resistance to it.
The first product for treating wounds with honey appeared in New Zealand in 1999, containing manuka honey. Research into honey's performance in treating wounds has advanced rapidly since.
According to Cerlini, Tosama wanted to prove and has proved that chestnut honey also has outstanding performance in treating wounds, as had been indicated by folk traditions. In 2010, Tosama entered the market with the seaweed and medical honey wound dressings.
The company proved that dressings are effective in treating diabetic and venous lesions, pressure lesions, burns, and infected wounds and wounds with strong odour by testing honey's antimicrobic characteristics and through clinical trials.
Chestnut honey
Cerlini pointed out that chestnut honey was very rich in antioxidants such as phenol compounds and flavonoids, which makes it anti-inflammatory and protects the wounds from free radicals.
Chestnut honey works antimicrobically due to its high sugar content (up to 80%), which causes osmotic pressure in the wound and dehydrates the bacteria, due to its low pH, which is disadvantageous for the bacteria, and due to the gradual release of very low concentrations of hydrogen peroxide.
Chestnut honey is also special because it contains kynurenic acid, which decelerates and destabilises the biofilm, and has the highest amount of proline, which contributes to the synthesis of collagen, among all honeys.
All of the above contributes to faster regrowing of tissues and healing the wound.
Because it is harvested in forest, chestnut honey has smaller risk of containing pesticides, Cerlini added.
Every batch of honey is tested for its impact on the four most common bacteria found in wounds, on the candida, and for the content of pesticides, heavy metals and potential medicines used in beekeeping. Tosama also tests honey for the contents of proline and minerals.
Tosama's medical chestnut honey dressings are used in many Slovenian hospitals, while the company also exports them to several other markets, including Belgium, France, Austria and Germany.
Participation in domestic and international research projects
Tosama has been active in domestic and international research projects since 2005, when it established its own 26-strong research group. The company allocated more that EUR 100,000 for R&D projects last year.
It has been involved in research projects in cooperation with the Chemistry Institute and the Jožef Stefan Institute as well as the universities in Ljubljana and Maribor and the two university medical centres.
Among the research centres abroad, Tosama's partners include Fraunhofer IST, Vito, Softal, Spinverse, Ima and Lionex.
The company has four laboratories - physics laboratory, chemistry laboratory, microbiological laboratory and construction laboratory. It has been granted four international patents for its own innovations.