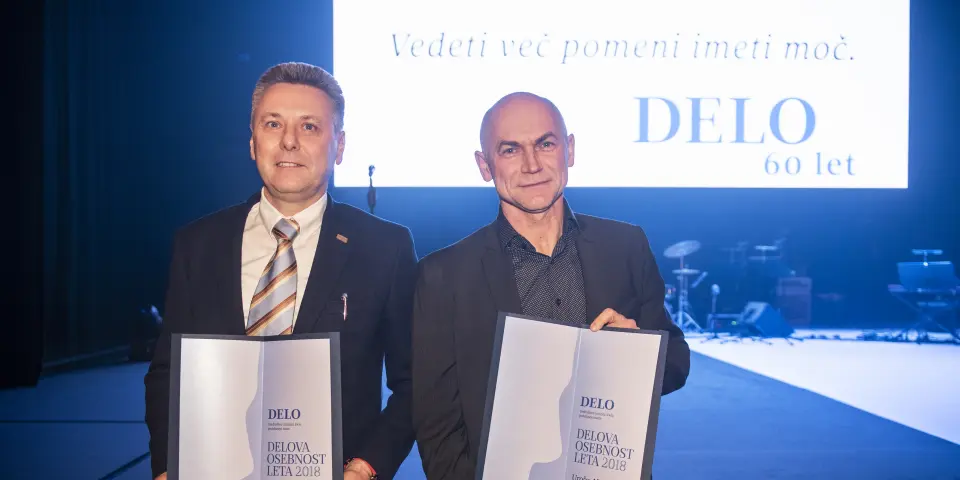 Top aesthetic surgeons named Delo's person of the year
Ljubljana, 9 January - Delo gave out its annual awards on Wednesday at an awards ceremony that also marked the newspaper's 60th anniversary. The Person of the Year award went to Uroš Ahčan and Vojko Didanovič, the first surgeons to complete a full nose reconstruction from own tissue.
The fully vascularised and innervated nose, whose outer layer was constructed from the patient's forehead tissue, was transferred to the face after it was grown from bone and soft tissue on the patient's forearm.
The approach is entirely new. While noses are printed in China with the help of bio-printing from ear cartilage tissue, vascularisation still presents an issue.
The first surgeons in the world to successfully replace a patient's amputated nose work at the UKC Ljubljana's department for maxillofacial and oral surgery.
The ceremony at Cankarjev Dom was attended by Speaker Dejan Židan, who said in his keynote that Delo had managed to overcome a number challenges since it was first published on 1 May 1959.
The paper prides itself on in-depth reporting, credible information, high professional standards and the trust of its readers, Židan also said.