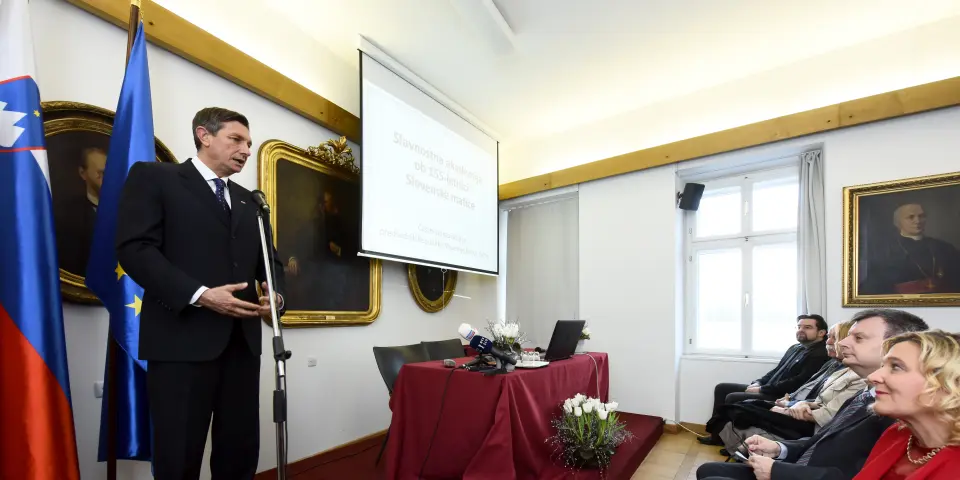 Slovenia's oldest scientific society celebrates 155 years
Ljubljana, 4 February - Slovenska Matica, the nation's oldest cultural and scientific society, is celebrating its 155th anniversary with an open house on Monday. A number of lectures, debates and presentations are taking place. President Borut Pahor addressed the main ceremony.

Slovenia is confronted with the question of how to build its national character without it turning to national arrogance or nationalism, Pahor said in his address, adding that this was a sensitive and tough intellectual and political issue.
At the same time, Slovenians need to ask themselves "how can we build stable pillars of sovereignty without creating the impression that we started to doubt the European idea and were getting ready for its downfall".
He pointed to the important role Slovenska Matica played in this context and noted that these issues needed to be addressed with great sensitivity, especially by politicians.
Slovenska Matica president Aleš Gabrič said in his address that the society wanted to continue to do the work it set out to do 155 years ago: "to bring into the treasure trove of the national cultural wealth that what makes the nation its best".
The society was established in Ljubljana with donations of academics, tradesmen and entrepreneurs with the objective to print academic and scientific books in Slovenian.
Slovenian was not a language of academia, as Slovenian lands were a part of the Austrian Empire up until its dissolution following World War I.
When it was established, the society's mission was to raise the level of education across the nation and create Slovenian vocabulary in a variety of fields.
The society's heyday was in the early 20th century, when the books it published reached high circulation and the society nurtured frequent contacts with universities and academic societies from London to St Petersburg.
Today, Slovenska Matica is the second oldest Slovenian publisher after Mohorjeva Družba. It organises science meetings and conferences addressing issues faced by the Slovenian culture and society. It is fully funded by the state.