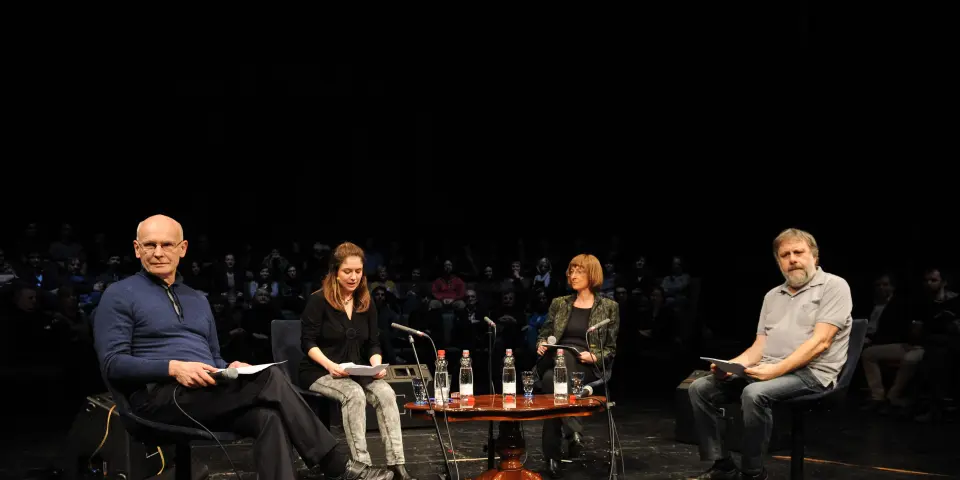 Lacanian School presenting latest work at Faculty of Arts
Ljubljana, 26 August - The Faculty of Arts will host a philosophy summer school this week as part of celebrations marking the Ljubljana University's upcoming centenary. The event, kicking off on Monday, will feature lectures by internationally acclaimed philosophers of the Ljubljana school of psychoanalysis - Slavoj Žižek, Alenka Zupančič and Mladen Dolar.
The summer school, entitled Fail Better! and running until Friday, has attracted more than 120 participants from 17 countries, in particular Denmark and Germany, said the university.
The acclaimed Ljubljana Lacanian School representatives will present their latest work, each delivering three lectures and concluding with a joint one, thus honouring the 100th anniversary of their alma mater.
The philosophers pointed out before the start of the summer school that they had never held such an event in Ljubljana and had rarely given lectures together in Slovenia.
"Perhaps an outside initiative was necessary to bring what is termed the Ljubljana School to Ljubljana. We hope to fail better here," said the scholars.
The event's slogan has been taken from Samuel Beckett's prose piece Worstward Ho - "Try again. Fail again. Fail better."
"The title points to a sense of failure, the foundering of critical thought and emancipatory politics stemming from the rise of new populism, the emergence of previously unimaginable leader figures, looming social and economic contradictions, the apocalyptic perspectives of global and ecological catastrophes.
"Such failure, however, is a starting point that instigates new intellectual engagement," said the faculty.