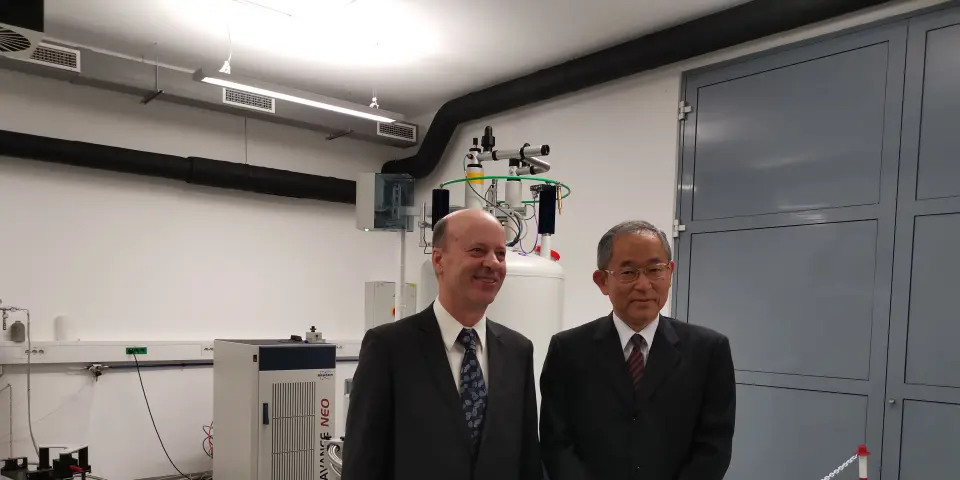 Institute inaugurates new NMR spectrometer
Ljubljana, 17 October - The Chemistry Institute and the National Nuclear Magnetic Resonance Spectroscopy Centre inaugurated on Thursday a new 600 MHz NMR spectrometer. The scientific instrument is useful for various purposes, including research or specific cases of food quality assessment, said the centre's head Janez Plavec.

The inauguration ceremony was attended by representatives of the Japanese and US embassies to Slovenia, including Japanese Ambassador Masaharu Yoshida.
The institute and the centre have acquired the new spectrometer, named Aska, together, thus replacing the ten-year-old previous equipment.
The funds for the EUR 1 million investment have been secured through the centre's commercial projects. Its economic partners and co-founders are pharma companies Krka and Lek as well as coatings group Helios.
NMR is a technique used in spectroscopy that allows access to physical, chemical and electronic properties of molecules. Plavec highlighted that despite complex process descriptions, NMR enabled pragmatic experiments.
For example, the centre helps test wine authenticity using the NMR spectrometer and cooperates with the Agriculture Institute in preserving Slovenia's wine heritage.
Plavec also touched upon the country's latest food scandal, involving a banned additive found in ground meat, saying that the centre could help in food safety tests if only the authorities recognised the need for such cooperation.
The centre cooperates with foreign researchers and institutions as well; currently it hosts experts from Italy, France and Turkey.
The majority of the centre's know-how is available to Slovenia's users in the academia and industry, while some 20% is globally accessible on the basis of the open access model, said Plavec.
Tomaž Boh, the head of the Science Directorate of the Education Ministry, said that Slovenia advocated comprehensive research collaboration, adding that the future development was to be found in the cooperation between researchers and the industry.