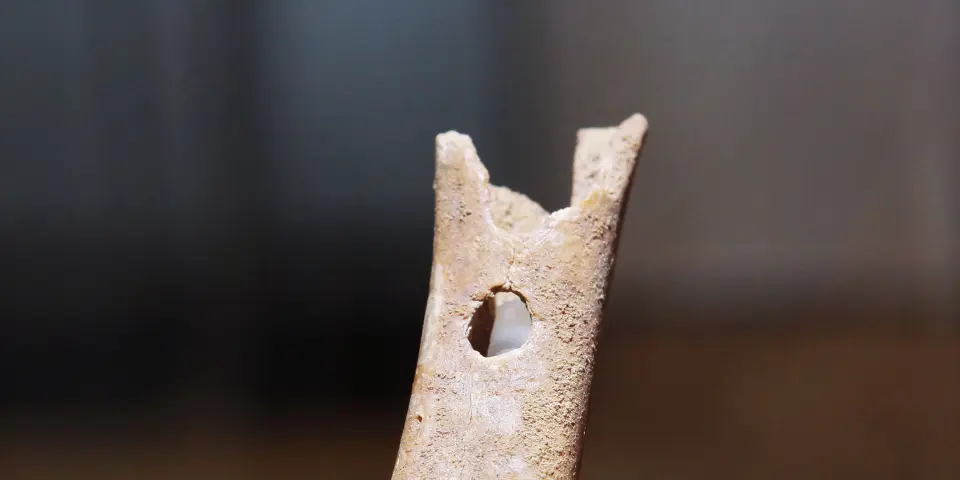 Earliest finds from Slovenia on display at National Museum
Ljubljana, 29 November - A new permanent exhibition was launched in the National Museum in Ljubljana on Friday. The Earliest Stories from the Crossroads disclose the "furthest and most mysterious past of the territory of Slovenia, as evidenced by the archaeological finds from the Palaeolithic to the Bronze Age."
Barbara Ravnik, the director of the country's oldest scientific and cultural institution, told the press ahead of the opening that the exhibition completes the permanent display of archaeological collections called Stories from the Crossroads.
Finding a special place among the exhibits is a Neanderthal flute, discovered in Divje Babe cave in western Slovenia in 1995 as possibly the world's oldest known musical instrument. The museum considers the item as a historical milestone on the global scale.
Ravnik noted that the entire project had taken seven years, with the first part of the exhibition opened in 2014, on the 2,000th anniversary of Emona, the Roman settlement in whose location the modern-day Ljubljana has developed.
Following the Roman exhibits were Medieval and Iron Age items, with the permanent exhibition being created by an extensive team of archaeologists and conservationists, who have been entrusted the objects as shared heritage, she added.
The Earliest Stories from the Crossroads presents the life of the Palaeolithic nomadic hunters and gatherers, how the territory of Slovenia was permanently settled, and how the production economy began in the Neolithic.
"We will step into their settlements - pile dwellings and forts - and discover the great changes brought by the metallurgical achievements of the Copper and Bronze Ages," the museum's website says.
Matija Turk, who has set up the Palaeolithic and Mesolithic parts of the exhibition, noted that the selection had been tough as the National Museum kept the largest trove of such finds in Slovenia.
By displaying tools, Turk wants to show the visitors in how they had been made and used. In addition to the Divje Babe flute, he also mentioned bone spearheads used by Palaeolithic hunters, found in Potok Cave in northern Slovenia.
Co-author Peter Turk added that the more recent ages had also produced interesting items, found in Slovenia's territory, including figures from the 3rd century BC, golden appliqués from Bled and weapons from Late Bronze Age.
The exhibition covering the entire pre-history and early history of settlement of the territory, from the first traces of Neanderthals 100,000 years ago to High Middle Ages, is accompanied by a catalogue in Slovenian and English.