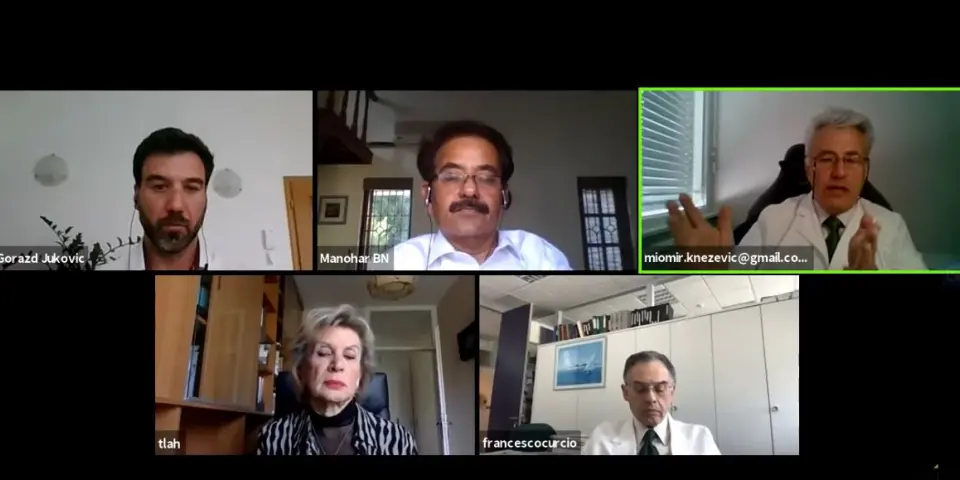 Stem cell therapy debated as option to fight coronavirus
Ljubljana, 16 April - A debate co-hosted by the STA on Thursday heard that stem cell therapy could be one of the possible solutions for the treatment of Covid-19, in particular for the most severe cases, but that clinical studies are required to realistically evaluate their therapeutic effect.
In the on-line debate, Francesco Curcio, a clinical pathology professor at the University of Udine, said that the coronavirus would not disappear, and that new viruses could also appear, which is why it was important to be ready and find a good solution immediately.
Curcio, who heads the Laboratory Medicine Department at the University Hospital of Udine, noted that currently used for treatment of Covid-19 were drugs for other viral diseases, including HIV and malaria, "which sometimes give good results, and sometimes not."
In his opinion, currently the best solution are mesenchymal stem cells, a sub-group of stem cells, because they have the ability to balance out the functioning of the immune system and regeneration of tissue.
Tamara Lah Turnšek, the former director of the Slovenian National Institute of Biology, added that mesenchymal stem cell therapy could be considered in the second phase of Covid-19, when it was possible to contract an acute respiratory distress syndrome (ARDS).
ARDS is a consequence of a strong inflammatory response, called cytokine storm, and there is no cure for it for the time being, but the application of mesenchymal stem cells eases its consequences and improves the changes of recovery.
In this process, according to Lah Turnšek, mesenchymal stem cells play two important roles at the same time - taking care of a balanced response of the immune system, and encouraging other cells to regenerate tissue.
In order to thoroughly research mesenchymal stem cell therapy and put it on the market, a consortium of 13 partners from eight countries has been formed, with the Slovenian biotech company Educell being the lead partner.
Educell director Miomir Knežević said that while not much could be done for a major part of the population during this pandemic, "we can learn and prepare tools for the next outbreak, which will certainly happen."
He said that the goal was not to raise false hopes, but to show how mesenchymal stem cells could help, adding that it needed to be established what was the right quantity of cells and who will respond to therapy and who will not.
Sufficient production of stem cells also needs to be ensured, Knežević said, noting that this was "a different type of medical intervention, which we must develop together with hospitals, producers and scientists."
B. N. Manohar, the director general of the late stage life science company Stempeutics from India's Bangalore, a partner in the consortium, said that mesenchymal stem cells had proven to be safe, and that they should thus be placed on the market.
If the results of clinical studies are good and positive, he believes that it will be possible to convince regulators to approve the therapy.
A study on seven patients in China has shown that it has some positive effects, and positive results were also shown on a patient in Udine, who was given mesenchymal stem cells prepared in Slovenia after all other therapies had failed.
The patient who had previously been mechanically ventilated for 20 days was not saved, but according to Curcio, results were promising, as the cells had done their job in terms of inflammation control.
Knežević said that it depended on the European Medicines Agency when the first clinical studies would be available to researchers, but he announced that some results and solutions would certainly be available in the autumn.
Patrick Soon-Shiong, the director general of the partner company NantWorks, a network of health and technology startups, expressed the hope that mesenchymal stem cells would also help in other diseases caused by irregular functioning of the immune system.