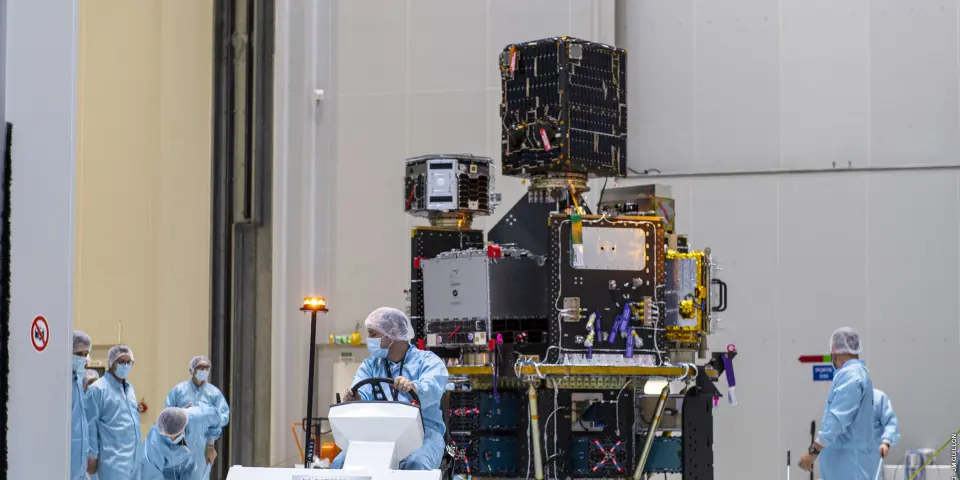 Launch of Slovenian satellites rescheduled again
Ljubljana/Kourou, 28 June - After being rescheduled several times, the launch of Slovenia's first satellites, Trisat and Nemo HD, has been postponed again due to poor weather conditions. The next date is Monday.

The launch was scheduled to take place near Kourou in French Guiana in the wee wee hours today Central European Time, but has been postponed to around 4am tomorrow local time.
The Vega rocket is to be launched as part of the project by the European space company Arianespace and is to carry a total of 53 small satellites into space, including Slovenia's Trisat and Nemo HD.
The rocket had been initially supposed to leave for space in September last year, but the project was then postponed due to a failed rocket launch. The Covid-19 pandemic further upset the apple cart.
However, since mid-June, strong upper-level winds in the higher strata of the atmosphere above the launch site are throwing those in charge of the launch a curve. Today's postponement is already the fifth in a short time.
If the weather does not improve by tomorrow and the launch is cancelled again, then the rocket and satellites will have to be once again prepared for the launch - a procedure that could take up to two weeks.
Both Slovenian satellites are an important milestone for the country's as well as European space technology efforts.
Trisat, weighing only 4.4 kilos, is capable of taking multispectral images of Earth in short-wave infrared spectrum with a camera unlike any other in space at the moment.
Nemo HD is a 65-kilo micro-satellite, which will be orbiting Earth at 600 kilometres, producing panchromatic and multispectral images.