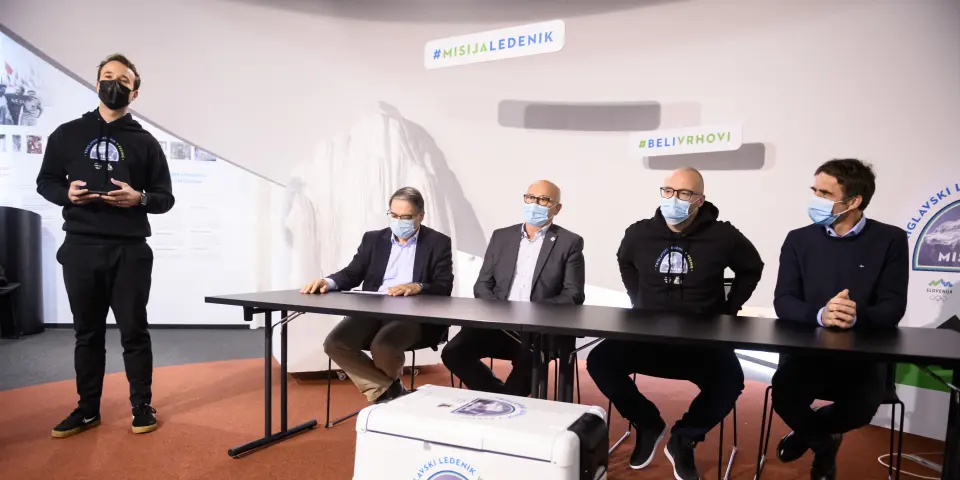 Climate change campaign launched by Slovenian Olympic Committee
Ljubljana, 17 December - The Slovenian Olympic Committee (OKS) launched on Friday a campaign to raise awareness about the need to preserve glaciers, in which a piece of the glacier from Mt Triglav will be brought to Beijing and displayed there during the Winter Olympic Games to warn of the impact of global warming on the Alps.

Over the next 36 days, the Slovenian automotive vlogger Ciril Komotar will transport a portion of the Triglav glacier, taken as part of regular sampling, across a large part of Europe, across Russia, and all the way to the border with China.
The idea is to display the piece of the Triglav glacier at the Winter Olympics centre in Beijing, thus sending a clear message about the rapid disappearance of the world's glaciers and the wider impact of climate change on humanity.
The impact of global warming on the glacier on Mt Triglav was also illustrated by Komotar at today's press conference. "The atmosphere is currently warming at such speed that the impact is equivalent to moving the glacier 100 metres lower every 15 years," he said.
From a size of around 40 hectares in the 19th century and just over 14 hectares 75 years ago, the Triglav glacier has shrunk in recent years to the size of just about a hectare, the equivalent of about one or two football pitches.
Franci Petek, former successful Slovenian ski jumper and current director of the Planica Nordic Centre, also spoke upon the start of the journey, touching on the dramatic impact of climate change.
For him, "the real challenge is how to accept the fact that we are witnessing a rapidly changing climate. This is an unprecedented rate of change given the long history of our planet". Petek pointed out that the Alps and the polar regions were hit hardest by global warming.
The project organised by the Slovenian Olympic Committee (OKS) also involves a number of companies, organisations and research institutes, and aims to highlight the need for urgent change.
"This is one of our first major projects for sustainable development and a unique story that will add great value to the upcoming Winter Olympic Games," said OKS President Bogdan Gabrovec.
The climate impact of the glacier's journey is to be offset by tree planting and other measures to remove its carbon footprint. The campaign team will visit Laško and Maribor today and will already be in Monaco tomorrow, where they will be received by Prince Albert, the president of the International Olympic Committee's Commission for Sustainable Solutions.