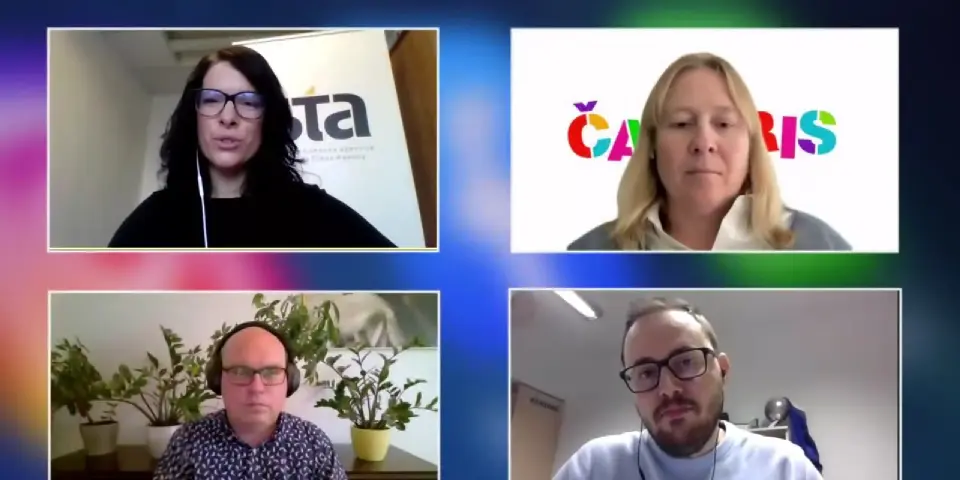 Social media torn between privacy and connectivity
Ljubljana, 30 December - Most human interactions have undergone a process of digitalisation at a global scale in the last 30 years, and the pandemic has accelerated this "migration to the net". In the face of such massive change, experts say there is no doubt about having to remain alert to both the positive and negative effects on individuals and society as a whole.
Even before the pandemic, people spent an average of eight hours a day in front of screens; during the lockdowns caused by the Covid-19 pandemic, some estimates suggest that this number had risen to 13 hours.
In 2021, social media had 4.5 billion users worldwide, 13% more than in the previous year and more than twice as many as five years ago.
In addition to keeping in touch and communicating on a daily basis, more and more businesses are moving to social media as well, and it seems that this trend will not be reversed for some time.
Digitalisation does not reduce inequality
Increasing connection speeds and the volume of data exchanged are also giving rise to more and more problematic aspects of the information society.
As anthropologist Dan Podjed points out, many of the inequalities present in analogue life have already being transposed into the digital world.
"The pandemic has shown more clearly than ever how important the quality of devices and connections has become for the smooth running of key activities, such as remote education or work," he said.
Inequalities in access to information tools and technologies are not only material, but also cultural and generational. The digitalisation process has been going on long enough that generations born long before the internet are part of it, as are those who are completely unfamiliar with the pre-internet world.
"It is quite understandable that this generational element leads to disparity in the accessibility and use of new technologies," says IT expert Muhamed Turkanović. "But it is important to address these disparities systematically."
Media literacy must start early
In this context, teaching media literacy to the general public - particularly in schools - seems to be of paramount importance, according to journalist Sonja Merljak Zdovc, who runs the children-oriented portal Časoris.
She advocates the introduction of media literacy programmes in primary school, especially because of the relatively young age at which children are exposed to the internet and social media.
As an example of positive practice, Merljak Zdovc cited school campaigns to raise awareness about safe internet use, which had reached both primary and secondary school students and, as a result, many adults as well.
"Digital media literacy in this sense should include awareness-raising on credible sources of information, what is news and what are advertisements, how to deal with messages that influencers give out on social media, and other related topics," said Merljak Zdovc.
"It is important for children to learn these analytical skills as early as possible, as this increases the likelihood that they will internalise them as they grow up," she added.
She also believes that a whole generation of media users has been lost. In the past, a child could at least partly learn media literacy through observing their parents' media practices when they read the newspaper, listened to the radio or watched TV. With today's devices, this cannot happen in the same way.
This is why systematic and deliberate teaching of media literacy is all the more important: it can give meaning to the implications of online engagement and explain them to young people, who are already more digitally literate on average.
Privacy and information security remain an acute issue
Another disparity becomes apparent when comparing people who understand the user interfaces of communication or social systems, and those who understand the workings of tools like digital certificates, the misuse of which can have serious legal consequences.
Turkanović points out that there is a significant gap between these two forms of digital literacy, and that this knowledge gap will become even wider in the absence of educational programmes.
To some extent, the issue of privacy is also based on a misunderstanding of devices and systems. One of the more obvious examples is the voice control functionality that most of today's smartphones are equipped with.
One of the settings in this feature allows us to help Google teach the browser to improve personalised tips and searches. Such settings obscure the fact that this actually allows corporations like Google to record our conversations, even when no specific command has been given.
Conversations recorded in this way contain a wealth of information about users' consumption habits, and these corporations make a lot of money selling the data.
Similarly, data collected by websites through cookies contains information about the user's device, its operating system, general location, battery status and screen size.
This information, unless otherwise managed by users, then shapes the content that browsers, social networks and websites on that device prioritise.
The emergence of an "information bubble" is thus much more than a spontaneous phenomenon of like-minded people being connected, Turkanović believes.
Who will bear responsibility for change?
The debate on who will bear responsibility for the whirlwind of change and its effects is ongoing, especially in the US, where tech giants such as Facebook, Twitter and Google are headquartered.
On the issue of responsibility for the spread of disinformation, there is also an ongoing political battle over who bears responsibility for what is published on social media platforms.
"The argument of tech giants that they are merely a medium that leaves decision-making and editing to the users is based on them avoiding the label of news media, which would bring about numerous restrictions," Turkanović explained.
The problem with this argument arises when these companies nevertheless control content according to their own internal codes and policies.
Despite assurances of impartiality and objectivity, these policies often arbitrarily block a whole range of content containing certain keywords. As a result, this can lead to unreasonable or even discriminatory interference with users' rights.
Solutions to these problems will have to be found both through institutional measures and regulation, and at the level of technological innovation itself, which should place privacy and information sovereignty at its core.
However, it seems that it will take a lot more effort to shift some of the established power relations in the industry.