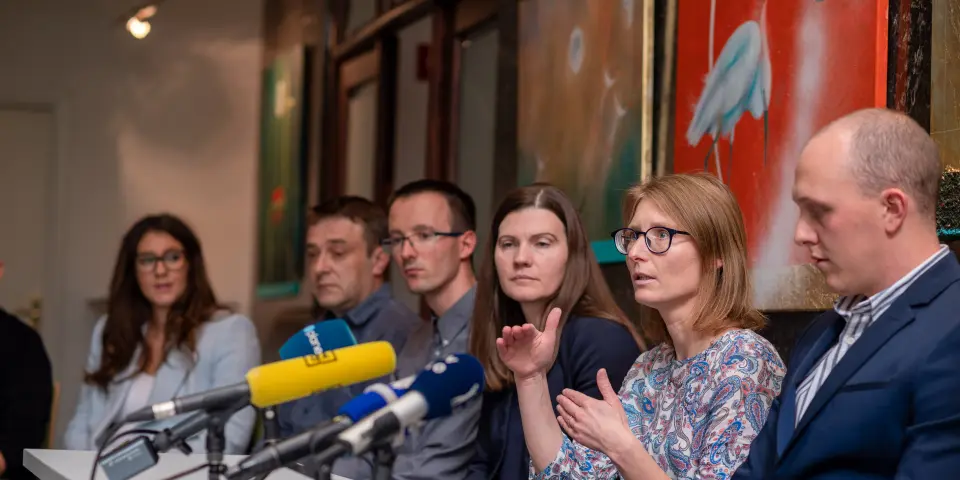 Slovenian researchers first to find microplastic in hailstones
Ljubljana, 10 October - A group of Slovenian researchers is the first in the world to find microplastic in hailstones. The results of their analysis suggest that microplastic may also contribute to the formation of large ice balls or lumps, they said at Monday's press conference in Ljubljana.

The hailstones in which microplastic was detected were formed in the troposphere, the lowest region of the atmosphere, in June 2019, when severe hail hit the river Kolpa area near Črnomelj in the Bela Krajina region, south-east.
The research was spurred on by this giant hailstorm, as the scientists sought to find out more about this rare phenomenon that has become more frequent in recent years.
"This is a complex phenomenon that varies in different locations" and so does probably its cause, said Matej Butala from the Ljubljana Biotechnical Faculty.
Locals from the areas hit by hail played an important role since they instinctively stored larger-than-average ice balls in their freezers.
The samples, sized up to 13 centimetres, were analysed using high-throughput sequencing to identify individual bacterial species in the hailstones.
Many bacteria were detected, including those that trigger the formation of ice crystals in clouds, Butala said.
The Jožef Stefan Institute (IJS), the Institute for Water and the National Institute of Chemistry also took part in the project. The latter's Ivan Jerman explained that microplastic detection was a complicated process that required special microscopes.
The Institute for Water analysed the presence of different microparticles in the hailstones, being aware of scientific studies already confirming their presence in the air.
Melted layer after layer, the samples revealed various particle layers. The scientists found many sedimentary particles originating from desert sands in the outer layers and many fibres, which were mainly of lignin and cellulose origin, in the inner layers.
Plastic fibres were also detected, such as polyethylene terephthalate, which belongs to the polyester family. Among the cellulose fibres there were cotton fibres died with dyes used in the textile industry - proof that fibrous particles can travel several thousands kilometres above the earth's surface and high up in the troposphere, and a number of kilometres away, said Manca Kovač Viršek from the water institute.
The textile industry, road traffic and farming are among the main sources of microplastic, she noted.
"We're glad that we are the first in the world to have proved that microplastic is present in the troposphere. Previous studies were carried out only a few metres above the ground, and no results had previously been released about the troposphere," Kovač Viršek said.
Their research detected microplastic in the hailstones formed eleven kilometres above the earth's surface.
The researchers cannot say for certain that microplastic was the only factor contributing to the formation of such giant hailstones three years ago, but further research might prove this.