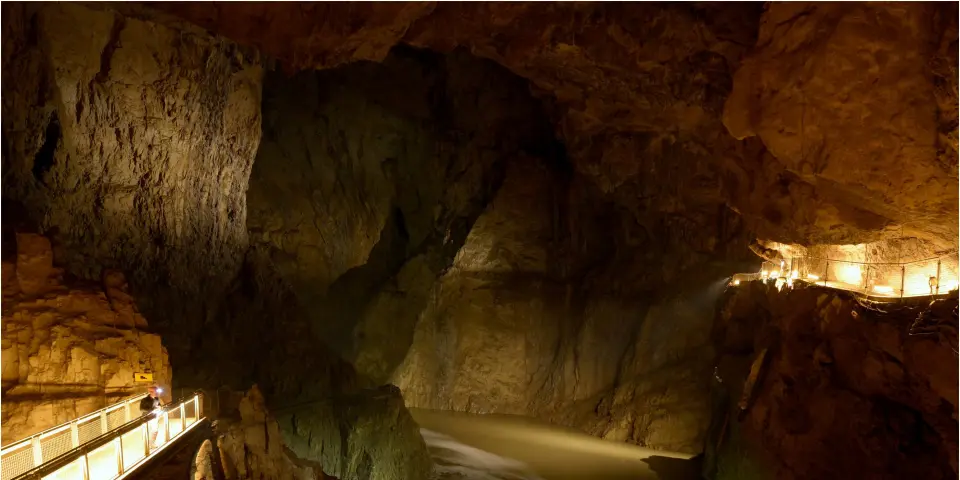 Škocjan Caves one of first 100 IUGS Global Geosites
Ljubljana, 26 October - The Škocjan Caves will be among the 100 global geological sites of great international importance that the International Union of Geological Sciences (IUGS) will declare as part of its 60th anniversary celebrations in Spain, the Geological Survey of Slovenia (GeoZS) has announced.
GeoZS says the IUGS Global Geosites recognition gives the selected sites additional visibility and identifies them as being of the highest scientific value.
The IUGS has 121 national members representing more than one million geoscientists, which makes it one of the world's largest scientific organisations.
This year, the organisation celebrates its 60th anniversary, and the main anniversary event will take place from 25 to 28 October in Zumaia, on the Basque coast. On the occasion, the first 100 IUGS Global Geosites will be announced.
The announcement will launch an effort to identify iconic geological sites from around the world that are recognised by the entire geoscientific community for their impact on the understanding of the Earth and its history.
Apart from Slovenia's Škocjan Caves, the IUGS Global Geosites include some of the oldest rocks on Earth in South Africa, traces of primitive life forms in Australia and China, some of the best dinosaur fossil remains from Canada, the first evidence of early hominid evolution from Tanzania, marine rocks from Mount Everest and sites such as the Grand Canyon (US), the Perito Moreno glacier (Argentina), the Santorini caldera (Greece) or Uluru in Australia.
More than 250 experts from 40 countries and 10 international organisations representing different disciplines of Earth science were involved in the selection of the sites. 181 sites from 56 countries have been proposed and evaluated by 33 international experts.
The selected sites are "the best illustration of geological features and processes in the world. They are the sites of wonderful discoveries on Earth and in its history," GeoZS wrote.
The Škocjan Caves are Slovenia's oldest UNESCO World Heritage site. They have been on the list since 1986.