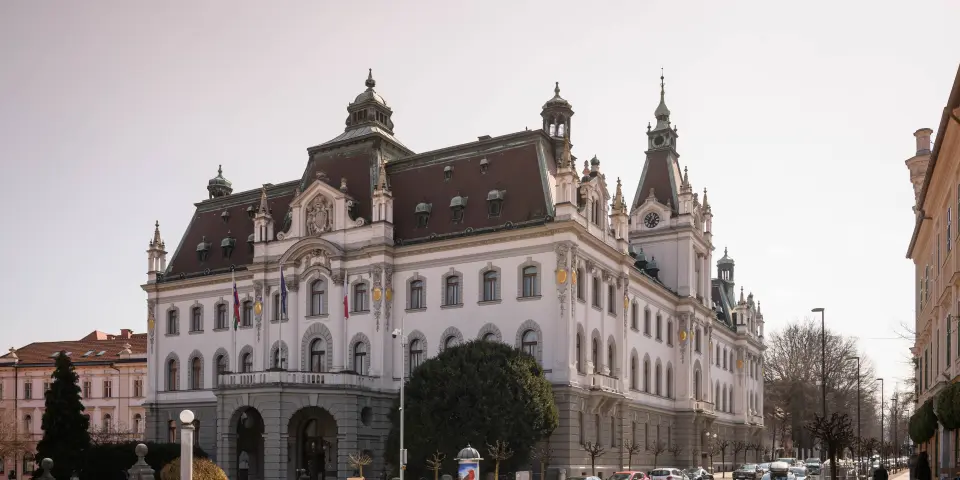 Documents on future of European university alliance signed in Ljubljana
Ljubljana, 21 November - A ceremony was held at the Music Academy in Ljubljana on Monday to launch a week-long series of events dedicated to the EUTOPIA European University Alliance hosted by the University of Ljubljana. Two documents important for the future of the alliance of ten European universities were signed today.
Addressing the ceremony, University of Ljubljana rector Gregor Majdič said that EUTOPIA was one of important strategic partnerships of the Ljubljana university, which was internationally active in higher education and research.
He said the project created an opportunity for regional and global connectivity, enabling students to gather know-how and experience at partner universities that are among the top universities in Europe.
Rector of the Pompeu Fabra University in Barcelona Oriol Amat said that EUTOPIA was a step towards a long-term vision of a public European university, which would not be easy to implement. "It is important that we strive for this long-term dream every day with numerous good results," he said.
EUTOPIA secretary general Nikki Muckle pointed to the founding of the alliance four years ago. Initially it featured three universities, but now it includes ten universities with 139 faculties. A strategic network of universities is also in the making, now featuring 44 members.
She said she was looking forward to hearing about the experiences of all the ten universities in Ljubljana this week.
Apart from the Ljubljana university, the alliance includes universities from Belgium, France, Sweden, Spain, the UK, Italy, Germany, Portugal and Romania.
Two important documents for EUTOPIA's future were also signed today - EUTOPIA More Inclusion Manifesto and Global Partners Charter, which symbolise the beginning of new chapters for the alliance.
"EUTOPIA's guiding principle is to create learning opportunities for all groups of students, especially those disadvantaged by gender, age, race, ethnicity, immigrant background, economic status, barriers, etc.," Petra Videmšek from the Ljubljana Faculty of Social Work told the STA. The manifesto is based on three years of work on the EUTOPIA 2050 project.
The Global Partners Charter was signed by rectors of the ten European universities and representatives of global partners from Australia, South Korea and South Africa.
In the next five days, 80 workshops, seminars and other events for more than 300 participants - students, researchers, strategic partners and other EUTOPIA members - will be held at various venues in Ljubljana under the slogan University of the Future, Universe of Opportunities.
A highlight will be an online lecture by Pippa Norris, a Harvard professor and a leading expert in political science, at the Faculty of Social Sciences on Wednesday afternoon. It will be followed by a debate on the loss of trust in state and scientific institutions.
Also on Wednesday, an outdoor exhibition will open at the Krakovski Nasip riverfront, presenting some of Slovenia's top scientists from the Ljubljana university and their high-profile projects and achievements.
Four years ago, the European Commission launched a programme to create a single European higher education area. EUTOPIA is one of the alliances of universities established under this programme to unify the European higher education area and create common foundations for higher education teaching across the EU. The University of Ljubljana has been a member of the alliance since its founding in 2019.