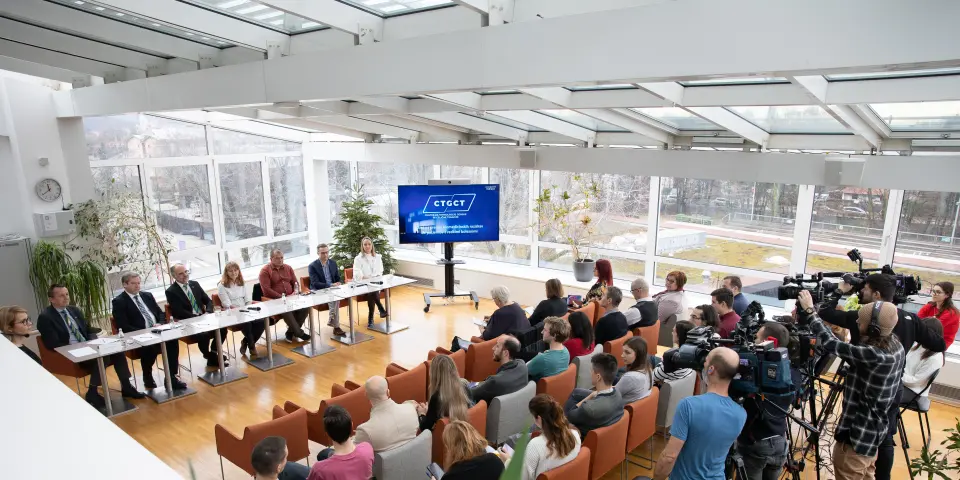 Centre for Gene and Cell Therapy Technology gets green light
Ljubljana, 23 December - Plans for a Centre for Gene and Cell Therapy Technology, whose mission will be giving patients with rare genetic diseases and forms of cancer faster access to advanced treatments, were presented on Friday. The centre, to be led by the Institute of Chemistry, will be backed with EUR 30 million in EU funds along with government support.
The centre will develop new treatments that are highly effective because they are targeted and tailored to individual patients or groups. They work on the immediate cause and can even lead to a permanent cure. Excellence in research in synthetic biology, neurobiology, genetics and immunology is key to the development of such treatments, the press heard.
A key feature will be the collaboration of scientists and doctors at the UKC Ljubljana hospital, with patients and their advocates also playing an important connecting role. The centre will thus be an important bridge between biomedical research for advanced therapies and their delivery to patients, with access to such treatments also being made cheaper by developing them in Slovenia.
Education, Science and Sport Minister Igor Papič stressed the centre will help bring about the transition from basic to applied research. He added that he considers it important to spread innovation into society.
Roman Jerala, head of the Department of Synthetic Biology and Immunology at the Institute of Chemistry, said that the Institute is already at the forefront of European science and presented some of the latest findings in the field of molecular and structural biology.
The participants of the press conference stressed that the new premises and the different legal structure of the centre, which will have around 1,400 square metres of research space and will be located next to the Institute of Chemistry, will enable the further development of the discipline.
Also stressed was the need to keep pace with the most developed countries in the world, and the centre will go a long way towards achieving this goal, as there are few such centres in Europe. The project will be joined by international partners from the UK, the Netherlands and Germany.
According to Mojca Benčina, researcher and expert collaborator in the project, patient organisations both abroad and in Slovenia have also expressed interest in building the centre, which will be organised as a private non-profit research organisation with public interest status.
She assessed that the centre would be up and running in five years, while funding has been secured for six years. During this time, the centre will also have an easier time attracting staff from abroad, as researchers' salaries will not be subject to the public wage system.