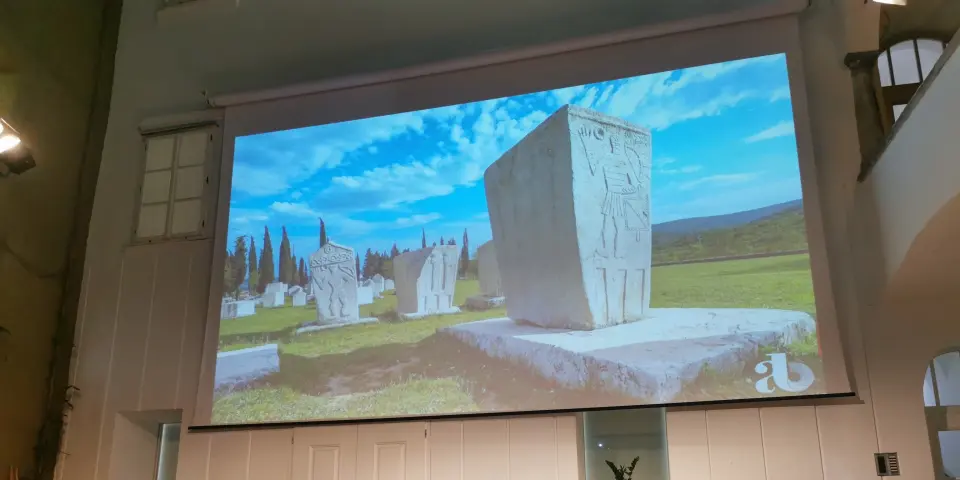 Slovenian-led project on medieval tombstones wins ERC grant
Ljubljana, 12 June - Researcher Saša Čaval from the Institute of Anthropological Studies at ZRC SAZU has won the ERC Consolidator Grant for her project set to research "stećci", large medieval tombstones found in several countries in the Western Balkans.
Tens of thousands of stećci are still at their original locations in Bosnia-Herzegovina, Serbia, Montenegro and Croatia, Čaval at a press conference in Ljubljana on Monday. While their importance is recognised and they are featured on UNESCO's World Heritage List, stećci are not well understood.
According to Čaval, there is little known about stećci beyond the fact that there are more than 72,000 of them, 8% are decorated and even fewer bear inscriptions in the extinct Glagolitic and Bosnian Cyrillic scripts.
They are well researched historically but extremely poorly archaeologically, she said, adding that it is surprising that stećci are not attributed to any religious or ethnic group.
The project will fill many gaps in the scientific understanding of stećci. It will not focus only on the dead but will indirectly study the world of the living, she said.
The project will answer the key questions on settlements, re-use of prehistoric spaces for burials, a type of nomadism known as transhumance and the ratio between decoration and inscription. The team will also research the role of stećci in construction and in sharing communal memories.
The five-year project worth nearly EUR 2.8 million will be hosted by the research centre ZRC SAZU. The team will be composed of researchers and students from Slovenia, Serbia, and Bosnia-Herzegovina.
This is the first ERC Consolidator Grant from the field of the studies of the human past in Slovenia and the first such project for the ZRC SAZU as a host organisation.
The ERC Consolidator Grant is aimed at researchers with a scientific track record showing great promise who want to consolidate their independence by establishing a research team.
Čaval's project was wait-listed at first, but approved after funds were found to be sufficient to support additional projects. Some 300 projects were chosen for funding out of more than 2,200 applications.