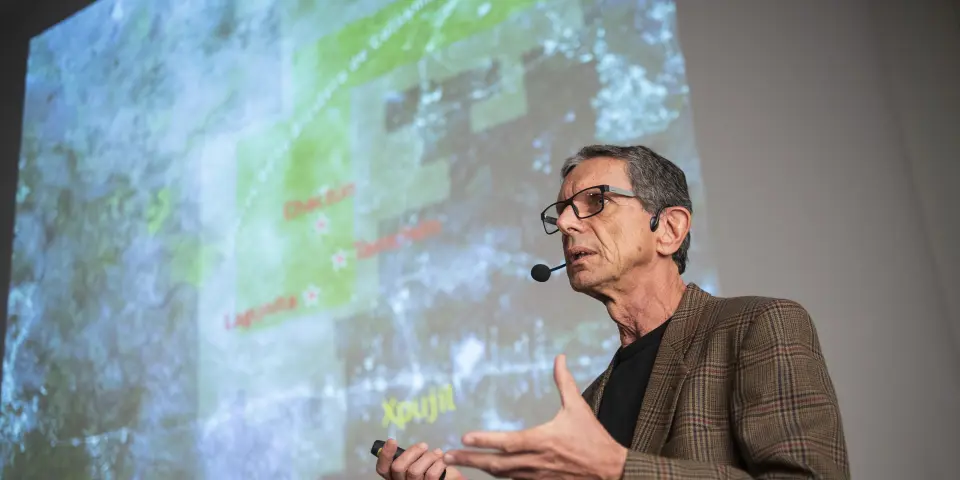 Slovenian archaeologist discovers Ancient Maya city
Ljubljana, 22 June - Slovenian archaeologist Ivan Šprajc and his team discovered remains of a Mayan city in the rainforest in the south of Mexico, which was an important regional hub of the indigenous society some 1,000 years ago, reports the ZRC SAZU research centre.
The Mexican National Institute of Anthropology and History named the city Ocomtun, meaning "stone column" in the Maya language.
The research team found the city during a search of a largely unexplored stretch of jungle in the national park Balamku on the Yucatan peninsula. The search was conducted between March and June using aerial laser mapping (LiDAR) technology.
The city, which is located on high ground, includes several pyramid-like structures, stone pillars, three squares with large buildings, a ball court and other structures positioned in almost concentric circles.
The team discovered multiple altars near the La Riguena river, which might have been constructed for communal rituals. More research is needed to precisely determine their purpose, said Šprajc.
Ocomtun was most likely an important regional hub of the Mayan society and likely declined between the 9th and 11th century, in line with the downfall of the Mayan civilisation in the region.
Ivan Šprajc is a renowned Mesoamerican archaeology and archaeoastronomy expert. He and his research team have discovered several archaeological sites, including important Mayan regional political centres.
Šprajc has also played a key role in a groundbreaking study on the Maya calendar, in which researchers found that the Mayan timekeeping system is hundreds of years older than previous research indicated and might have been used as far back as in 1100 BC.