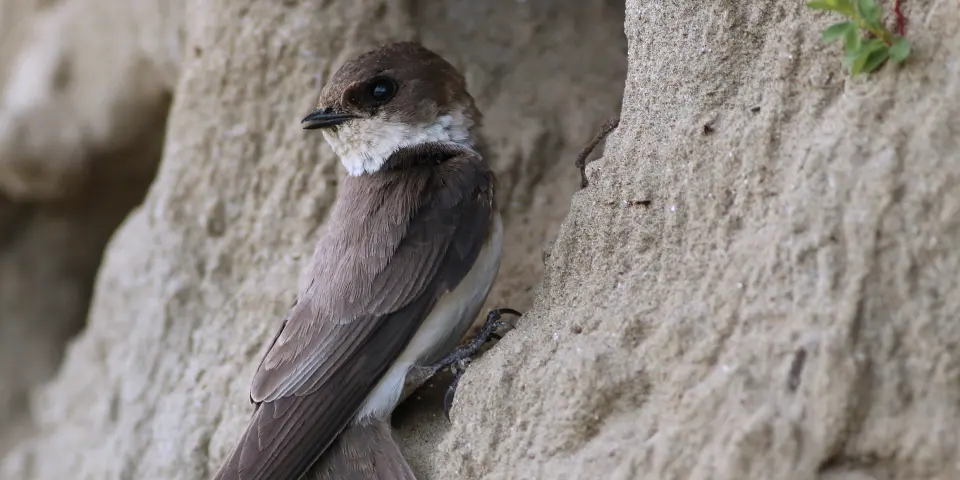 For sand martins, a good year with a sad twist
Ljubljana, 30 August - Sand martins, a rare though not endangered bird species, made a strong comeback in Slovenia this year, but the good news has been tampered by floods in early August which destroyed a major nesting site along the Sava, on the outskirts of Ljubljana.
After only 15 pairs were spotted last summer in Snebrje, their number increased to a record 1,300 pairs this year after DOPPS - BirdLife Slovenia carried out rehabilitation works on the river's embankments.
In Slovenia, sand martins (Riparia riparia) mostly live in the lowlands in the east of the country, close to large rivers. They are the most water-dependent of all swallows, nesting in tunnels they dig into steep and barren sandbanks.
The prerequisite for steep riverbanks to form is constant river erosion. Since there are practically no natural sand banks left on Slovenian rivers, DOPPS's volunteers artificially maintain several sections of sand walls every year, which allows sand martins to nest.
The number of sand martins surged this year in Sneberje, to 1,300 pairs, which is roughly half of the entire population of the species in the country.
"A colony of this size is rarely found in Europe," the bird-watching association said. By August, the chicks from the first litter had successfully fledged, but the recent flood flushed away all the subsequent broods.
The thick stacks of fine sediment in which the birds dig tunnels are mostly gone and those left have been eroded and will likely collapse soon, DOPPS warned.
However, the washed-away material might have ended up elsewhere, leaving a chance for the sand martins to find a new nesting place next year.
The association warned that, when regulating watercourses and floodplains, animals that live there must not be forgotten and the river must take its own course.