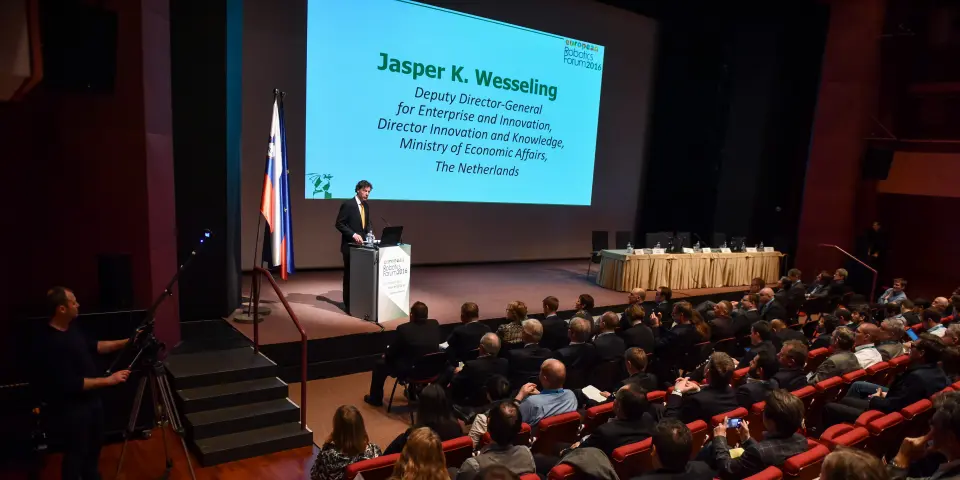 Robotics forum stresses importance of robotics for economy
Ljubljana, 21 March - The European Robotics Forum was launched in Ljubljana on Monday with experts from the field explaining how robotics can help boost economic growth, create jobs, and enrich human lives.

"We believe that Slovenia has played an important role in connecting innovation centres in Europe and beyond. This is why our ministry will continue to support such platforms," Minister of Education, Science and Sport Maja Makovec Brenčič told the forum, held at arts and conference Cankarjev dom.
In order to retain Slovenia's competitiveness, the ministry aims to boost the country's export of automatised industrial systems and equipment, especially in the machine tool industry and smart mechanotronic systems, by at least 25%, she announced.
"Technological progress, which has already accelerated digitalisation, has great economic potential to maximise growth. That's why we must maintain Europe's leading position in robotics and artificial intelligence, the driving forces of innovation," said Head of the Robotics Unit of the European Commission Juha Heikkila.
Bernd Lipert, the president of the forum's organiser euRobotics AISBL, sees some room for improvement in the area of mechanotronics, pointing out that basic technological features, such as sensoring, planning, control, and simulation systems need to be developed before any progress can be expected.
Since robotics is part of the EU's current political priorities, the European Commission plans to earmark 700 million euros for research and innovation in the area, with the industry to contribute the same amount, said Zoran Stančič, head of the European Commission Representation in Slovenia.
According to MEP Mady Delvaux from Luxembourg, regulation must be flexible enough to encourage digital transformation rather than limit development of digital technology.
A European Parliament workforce is preparing recommendations for the area of robotics addressing ethical questions regarding robots, which should be "friends of the people", she stressed.
The President of the European Committee of the Regions Markku Markkula said that development in robotics can only be achieved through more partnerships and increased activity on the local level, as this encourages local businesses to network and pursue innovations.
Jasper Wesseling from the Dutch Economy Ministry said that robotics can bring new jobs and opportunities in the industry, government, academia, healthcare services, and agriculture.
The 7th European Robotics Forum forum will bring together about 700 experts, engineers, managers, and entrepreneurs from all over Europe.
The three-day event will feature 60 workshops on all aspects of robotics, lectures by renowned experts, and robot exhibitions where several companies will present their products.
The forum will also be giving out an award for the best doctoral thesis and for the best technological transfer.
Several Slovenian institutions took part in organising the event, including the Faculty of Electrical Engineering in Ljubljana, the Jožef Stefan Institute, and the Slovenian Academy of Arts and Sciences.