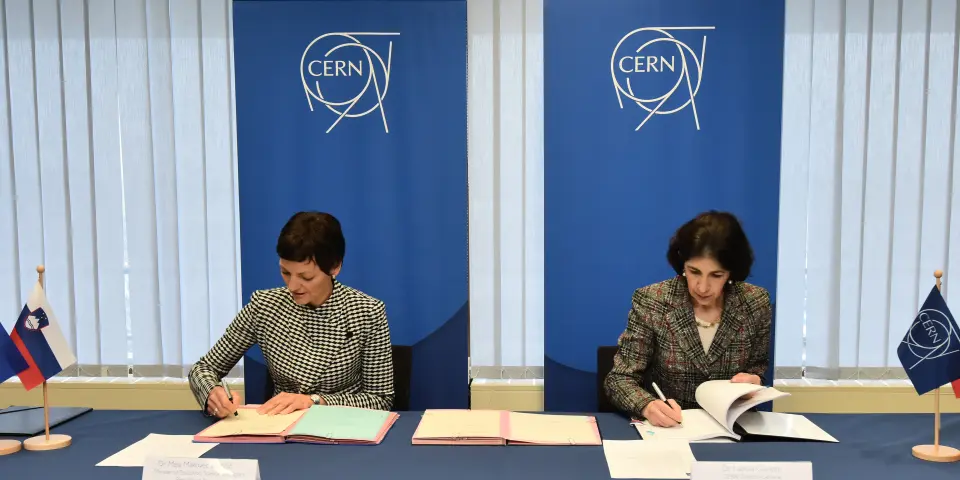 Slovenia signs CERN associate membership agreement
Geneva, 16 December - Education, Science and Sport Minister Maja Makovec Brenčič and CERN director general Fabiola Gianotti signed an agreement on Friday in Geneva to make Slovenia an associate member of the European Organization for Nuclear Research (CERN) pending ratification in Slovenian parliament.

The goal is for the country to become a full-fledged member in five years, which is a standard transitional period for new members. Nevertheless, Slovenian researchers and companies will immediately have full access to all of CERN's programmes and infrastructure.
Minister Makovec Brenčič said "this is a truly special day and an exceptional opportunity to state that not only Slovenian science, but also economy and education are able to be part of the big global CERN family".
She said that CERN was one of those institutions which not only drive development, but also make sure that knowledge was circulating.
By signing the agreement, Slovenia would like to deepen the cooperation with CERN in science and research; offer Slovenian companies new opportunities with an emphasis on high technologies; and deepen cooperation in education, she said.
Gianotti, on the other hand, stressed that apart from a desire to encourage science and research, CERN and Slovenia shared values based on years of cooperation. "I'm very happy that we'll be able to confirm our excellent relations also at a formal level."
Slovenia's cooperation with the world's leading particle physics laboratory goes back a long way, as Yugoslavia was one of its 12 founding countries, but left the organisation in 1961.
Ties were revived in 1989, when CERN signed a cooperation agreement with the Jožef Stefan Institute, one of Slovenia's leading research institutions.
In 1991, the first democratically elected government signed an agreement with CERN which has been the formal basis for the participation of Slovenian scientists.
While efforts for membership were announced several times in recent years, today's signing is the result of a process started by the government last April.
The agreement on associate membership will take effect after it has been ratified in the Slovenian parliament, which the minister believes should proceed smoothly.
She hopes the agreement will be ratified as soon as possible, so that the first instalment of the fee would be paid already in the second half of 2017.
The starting membership fee is around 930,000 euros and gradually grows until full membership, which costs around three million euros a year.
CERN, established in 1954, is an elite scientific institution that frequently produces new discoveries and has helped spur the development of a range of new technologies.