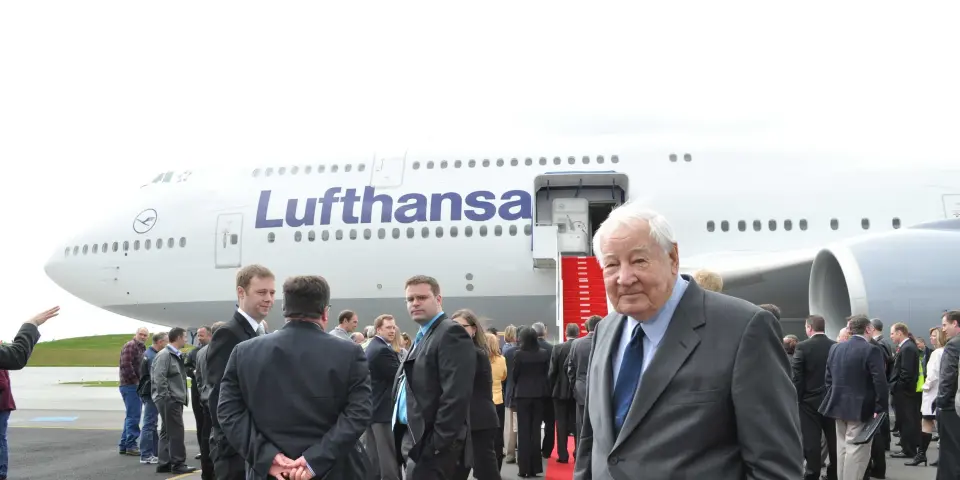 Joe Sutter, the father of Boeing 747 of Slovenian descent
Ljubljana, 21 November - Not many people flying aboard Boeing 747, one of the world's most recognizable airplanes, know that the Jumbo Jet's design and construction was spearheaded by a "proud Slovenian", an American of Slovenian descent. Joseph Sutter, the leader of the aircraft's design team, is commonly referred to as the father of the 747.
Sutter died last year aged 95 after taking part in the design and development of almost all Boeing aircraft. But he is best known for designing the 747, which transformed the airline industry and went on to become one of the most successful civil aircraft of all time.
Being a son of a Slovenian immigrant, Sutter was "interested in his roots", Stanislava Kiričič, the daughter of Sutter's cousin, said when he died in August 2016. He visited the country several times. "He was a very proud Slovenian and he was never hiding his origin," Kiričič told the public broadcaster RTV Slovenija.
"He always talked about Slovenia with affection and he was interested in Slovenian aviation experts," Darinka Kladnik, the author of a 2011 Slovenian documentary on Sutter, told the STA.
Aviation writer and historian Jay Spenser, who worked with Sutter for 16 months on his 2006 autobiography, told the STA that the 747 was just one of two things Sutter was most proud of, the other being his Slovenian heritage.
"He spoke frequently and fondly of it, recounting to me the history of the Suhadolc family. Suhadolc was his father's last name, but US immigration officials changed it to Sutter to make it easier for Americans to pronounce."
Joe's father, Franc Suhadolc (1879-1945) was born in Dobrova near Ljubljana and came to America as a 17-year-old gold prospector. After working in mines in Alaska for a decade, he started a meat company before he married Rose Plesik from Vienna, Austria, and the family settled in Seattle.
Born on 21 March 1921, Joe grew up in the vicinity of Boeing's Seattle plant, and his passion for aviation soon became apparent. According to Spenser, his childhood dream was to design a giant flying ocean liner that would take off on one continent and not land again until it reached another.
He went to the University of Washington and spent his summers working for Boeing. After graduating as an aeronautical engineer in 1943 and serving in World War II, he got a regular job at the company, where he started out as an aerodynamics specialist and quickly earned a reputation as a talented "troubleshooter" of designs plagued with problems.
In his early 40s, Sutter was named chief engineer of the 747 programme. It was the 1960s and Sutter wanted to create a new kind of plane, a widebody aircraft with two aisles and an upper deck to accommodate more passengers than any other airliner before.
Sutter and his team won the nickname "The Incredibles" for producing the world's largest airliner at the time in just 29 months. It went on to save Boeing from financial collapse. Spenser said Sutter "jokingly attributed this amazing success to his Slovenian genes".
The 747 had its maiden flight in 1969 before making its commercial debut in 1970 and becoming the backbone of modern air travel. It only lost its status as the biggest passenger airplane in 2007 with the launch of the Airbus A380.
"He put the safety of the plane first and also excelled as a negotiator with clients as well as his superiors," Kladnik told the STA.
Sutter was very much respected by his team. Joco Žnidaršič, the director of the 2011 Slovenian documentary on Sutter, described him as an "extraordinary person, hardworking, accessible, very admired by his co-workers" in a statement for RTV Slovenija in August 2016.
Sutter is known for changing the world of aviation and is often referred to as one of the most celebrated engineers of the 20th century. "He personified the ingenuity and passion for excellence," Ray Conner, CEO of Boeing's commercial airplane division, said in August 2016.
Sutter also served on the Rogers Commission which investigated the Space Shuttle Challenger disaster.
In 1985, President Ronald Reagan awarded him the United States Medal of Technology and he became a member of the National Academy of Engineering a year earlier. He also received the International Air Cargo Association's 2002 Hall of Fame Award.
Sutter retired in 1986 at age of 65 as executive vice-president in charge of engineering and product development for Boeing Commercial Airplanes.
He served as a senior adviser emeritus for a quarter-century, regularly stopping by at the Seattle-area office into his 90s. "I have lots of ideas on how to develop good airplanes, and I will voice my comments to the fellas," he said in a 2010 interview.
In 2011, on his 90th birthday, the main Boeing's engineering building for commercial airplanes division, was named after him.
In 2013, he received the National Air and Space Museum Lifetime Achievement Award and received an honorary PhD of the Slovenian University of Nova Gorica in 2006.
Sutter died on 30 August 2016 at a hospital in Bremerton, Washington, from complications of pneumonia. His wife Nancy died in 1997. The couple has been survived by two daughters, a son, and grandchildren.