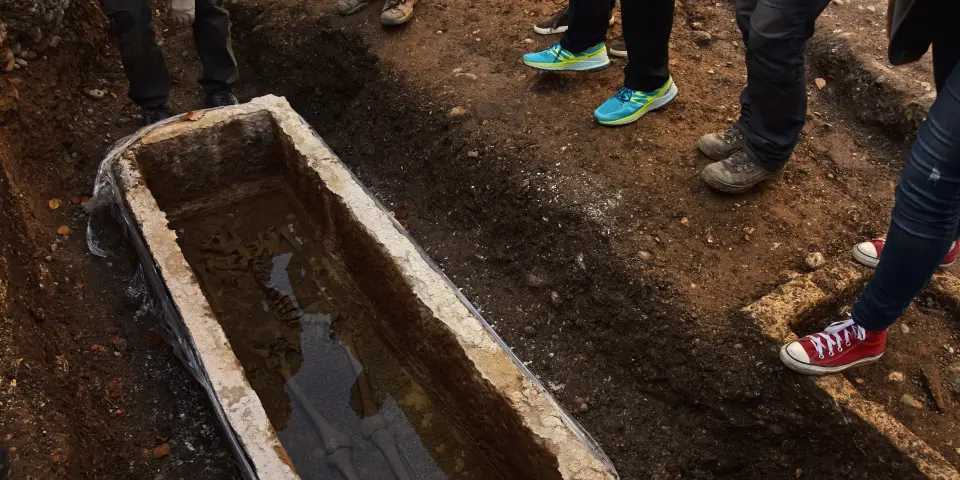 4th century sarcophagus found during excavations in Ljubljana
Ljubljana, 20 October - A well preserved sarcophagus from the Late Antiquity was uncovered in the centre of Ljubljana on Friday, attracting the attention of media as well as passers-by. Archaeologists stumbled on the tomb during major reconstruction works in Gosposvetska Street.
Archaeologist Martin Horvat from the Ljubljana Museums and Galleries (MGML) told the STA that a total of seven sarcophagi had been found during the works on the street, which connects Tivoli Park and Slovenska Street since September, but the one found today was the best preserved.
Under the watchful eyes of numerous bystanders and photographers, the 4th century sarcophagus was opened this afternoon by a small earthmover, revealing a skeleton with no other item inside.
Horvat, who heads the excavation works, explained that the sarcophagus was from the period when Christianity was dominant in the area, which means that the custom of putting items along the deceased person had already been abandoned.
Until then, the deceased were laid to rest together with food, drink, money and their most favourite or most precious items, he added.
The remaining sarcophagi that were found during earthmoving works in the street were badly damaged, if not completely destroyed, while several broken pieces of sarcophagi have also been found.
Horvat believes there had been around 20 sarcophagi or more under Gosposvetska Street. Some of them were destroyed during the installation of water mains in 1948.
According to him, Gosposvetska Street is very interesting for archaeologists, because the location used to be the juncture of two main north-bound streets in Roman times, when Ljubljana was called Emona.
In Roman times, cemeteries were placed along the roads leading into the city. "Everybody who was coming to the city, first met the world of the dead before entering the city of the living."
He added that a grave with a skeleton was interesting to anthropologists because they can analyse bones to find out how the deceased had lived and how they died.
The archaeological works in Gosposvetska Street are currently being conducted on one side of the street, and are scheduled to end in November, after which they will continue on the other side of the street.
The MGML is already organising guided tours of the site, and interest from citizens is exceptional, Horvat told the STA.