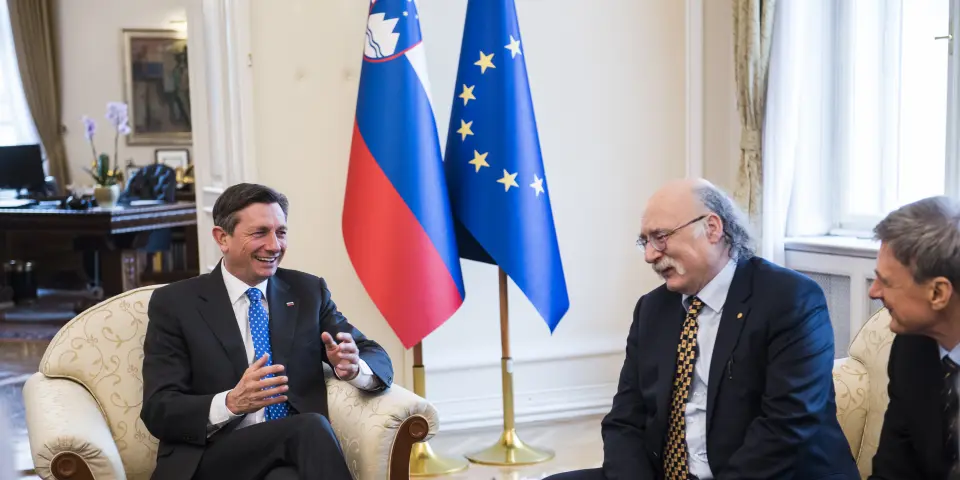 President receives Nobel laureate Haldane
Ljubljana, 20 March - President Borut Pahor received on Tuesday Duncan Haldane, a physics Nobel Prize laureate of Slovenian roots, whose visit he called an "inspiration to all who work in science and are solving the last remaining mysteries", Pahor's office said.

"Your achievements speak for themselves and impress the people who want to take the path you have taken," the president told Haldane, who is in Slovenia for Days of Jožef Stefan, a festival intended to promote science and celebrate the acclaimed Slovenian physicist.
Pahor also invited to the reception the head of the Jožef Stefan Institute, Jadran Lenarčič, and physicists Dragan Mihailović and Primož Ziherl, who was recently declared the mentor of the year 2017 by an association of young researchers.
Haldane shared the 2016 Nobel Prize in Physics with researchers David J. Thouless and J. Michael Kosterlitz. He was honoured for theoretical discoveries of topological phase transitions and topological phases of matter.
Born in London in 1951 to a British army doctor and a Slovenian mother, Haldane spent his childhood in England, where the family moved from Austria's Carinthia. After his studies, he worked as a scientist in France and then the US. Currently, he works as a professor of physics at Princeton University.