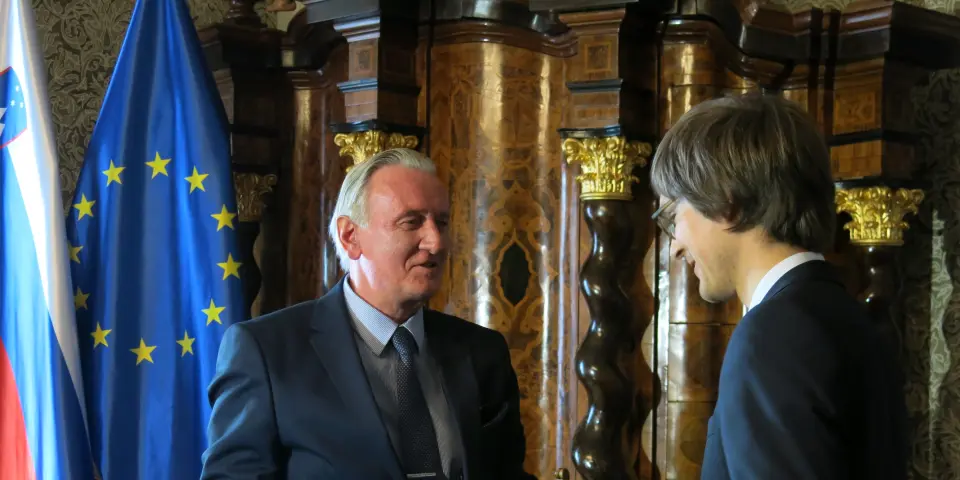 Slovenia reaching out to its researchers in the US
Cerklje na Gorenjskem, 26 March - Minister for Slovenians Abroad Gorazd Žmavc and the chair of the American-Slovenian Education Foundation (ASEF), Jure Leskovec, have signed a memorandum of cooperation to foster ties with Slovenians living and working in the US. They also signed a contract on the financing of an ASEF scholarship fund.

The memorandum will pave the way for regular exchanges of guest students and researchers from Slovenia with professors who are of Slovenian descent or are striving to promote Slovenian language at universities and research institutions abroad.
Leskovec, a professor at Stanford University, said that the ASEF had been founded four years ago to connect Slovenians around the world and promote the exchange of know-how, ideas and entrepreneurship among Slovenians.
The foundation also provides scholarships for Slovenian students attending courses of Slovenian professors in the US and helps children of Slovenian immigrants in the US study in Slovenia.
The programme is open to those coming from Slovenia as well as to Slovenians living abroad, for example in Argentina.
The number of students receiving scholarships rose from three in 2014 to 14 last year, while the goal for this year is 20.
The ASEF includes more than 25 Slovenian professors working at not only American but also Canadian and British universities.
The ASEF cooperates with 300 Slovenian associations around the world, connecting half a million members of Slovenian communities.
According to Žmavc, this year the scholarship programme will be worth some $US 250,000. About a third of the funds will be contributed by the Slovenian government.
This means that the programme will be worth one million dollars in four years, which the minister said was an important investment in know-how.