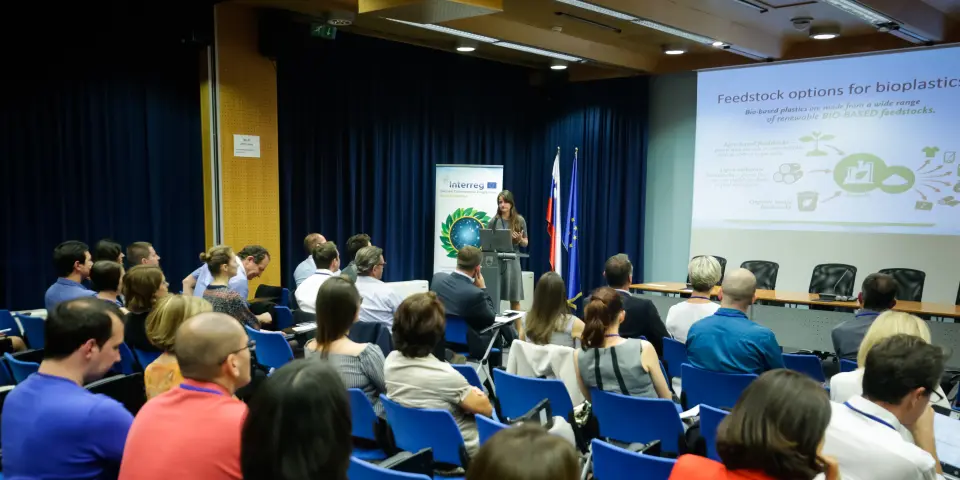 Bioplastics movers discussing bioplastics value chain in Ljubljana
Ljubljana, 24 May - A two-day international workshop dedicated to the value chain in bioplastics began in Ljubljana today. It is organised by two European projects in the field whose basic goal is furthering ties among all relevant players in bioplastics and the bioeconomy in general.

The organisers are teams belonging to the DanuBioValNet project, co-funded as part of the Interreg programme in the Danube region, and to the Biocompack-CE project, co-funded as part of the affiliated programme for Central Europe. Slovenian partners are involved in both.
"We wish to develop a bio-based industry network in the Danube region and wider," Dominik Patzelt of the German company BioPro Baden-Württemberg, dedicated to cross-sector cooperation in the bioeconomy, said on behalf of DanuBioValNet.
While the bioeconomy is developing fast, it still faces a number of challenges, whose mastering will depend on cooperation among key players, ranging from business to science and state institutions, said Mateja Dermastia of Anteja ECG, which is part of the DanuBioValNet project. This was echoed by Andrej Kržan of the Chemical Institute, who is part of Biocompack-CE.
Participants were also addressed by Education and Sicence Ministry State Secretary Tomaž Boh, who highlighted the ministry's efforts to improve cooperation between science and business.
The opening address was delivered by Slovenian MEP Franc Bogovič (SLS/EPP), who pointed to various activities organised in the field both at the European level and in Slovenia.
Bioplastic is plastic that is biodegradable or made on the basis of biomass, which makes it friendlier to the environment. The production capacities for bioplastic, more than half of which is used in packaging, are expected to rise by 20% on the global level by 2022.