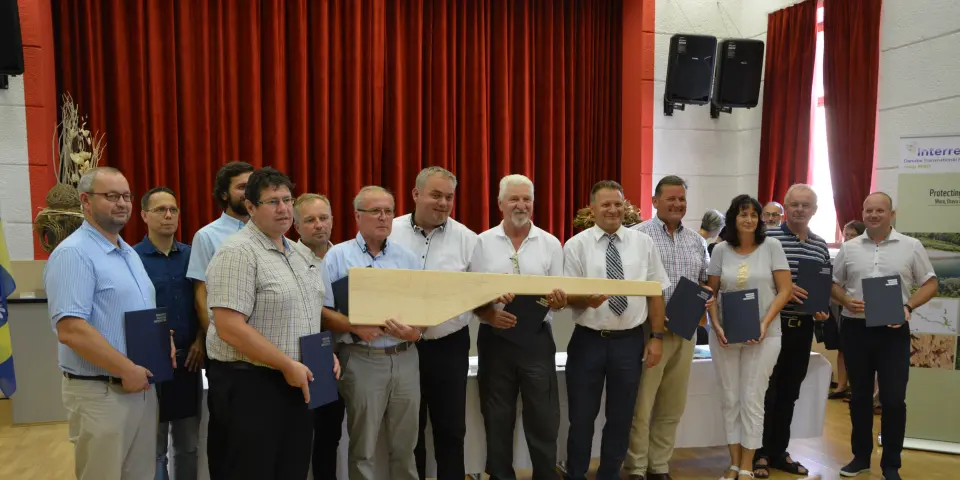 Local authorities form partnership for Mura Biosphere Reserve
Velika Polana, 1 August - Representatives of 16 municipalities in the north-eastern region of Pomurje confirmed on Wednesday an agreement on development partnership of the local authorities along the Mura river as the Mura River Biosphere Reserve was recently declared by UNESCO.
As the officials symbolically put their signatures on a typical wooden paddle used on the Mura river, Velika Polana Mayor Damijan Jaklin invited other municipalities, NGOs and stakeholders to join the project and help protect the Mura.
According to Gordana Beltram of the Ministry of the Environment and Spatial Planning, the partnership and the biosphere reserve are an opportunity for the region to show the whole world how it is possible to manage development to reach sustainable goals.
It is now important for the people and communities who live and develop here to maintain sustainable development and the activities which have been shaping this region for centuries, she added.
Teo Hrvoje Oršanič, the head of the Nature Conservation Institute, wanted to tell the people of Pomurje that they have an opportunity to continue with sustainable development, which is the only right vision for the country's development.
Simona Kaligarič, the head of the Maribor unit of the institute, presented a local action plan for tackling key issues in the biosphere reserve, such as deepening the river, freshwater swamp forests and the agricultural landscape along the Mura.
The Mura River Biosphere Reserve was declared at the annual conference of UNESCO's Man and the Biosphere Programme on 25 July in Palembang, Indonesia, joining 685 other biosphere reserves all over the world.
UNESCO says that the biosphere reserve includes the largest preserved complex of floodplains in Slovenia, where the "interweaving of natural factors and human presence has created an exceptional cultural riverine landscape".
So far Slovenia had three biosphere reserves - the Julian Alps (declared in 2003), the Karst (2004) and Kozjansko and Obsotelje (2010).