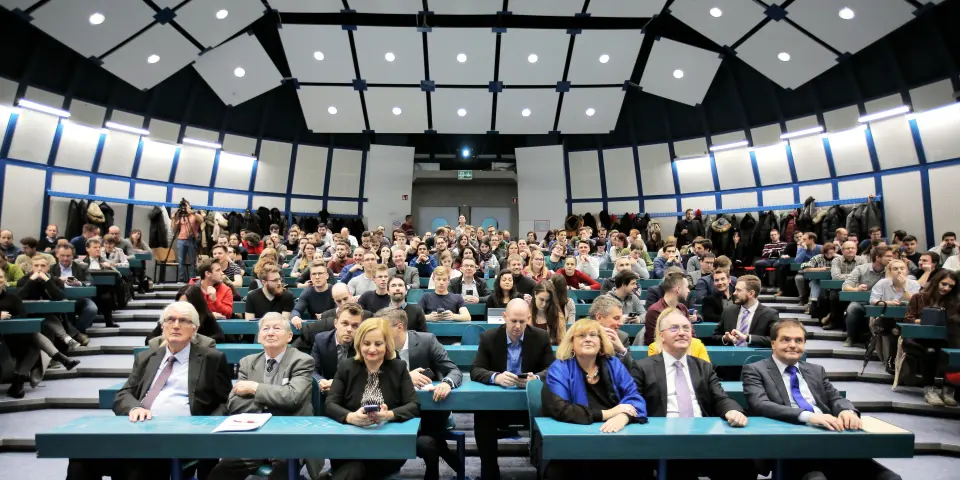 Business informatics programme at Faculty of Economics celebrates 40 years
Ljubljana, 30 November - The Ljubljana Faculty of Economics hosted an event dedicated to the 40th anniversary of its business informatics programme this week. Looking back and ahead, participants of a celebratory panel discussed their views on the discipline, with one of them pointing out that technological solutions implemented today were simply rebranded ideas from decades ago powered by stronger computers.

Tomaž Štolfa, a former student and co-founder of the San Francisco-based company Layer, pointed out that all who work in technology are standing on the shoulders of giants who have to be respected and their work advanced.
This is reflected in the trend that all companies are becoming tech companies at their core, he said, pointing at the tech giant Amazon, which built its business on a tech solution for selling books.
Celebrating the 40th anniversary, the business informatics programme has evolved into an interdisciplinary study since its inception.
Today, around 120 students, of whom between 30 and 40 are from abroad, are enrolled in the programme each year. The programme is modernised each year to keep up with the trends in the discipline, Mojca Indihar Štemberger, the head of the Business Informatics and Logistics department, told the STA.
Noting that more than 2,200 students have graduated from the programme so far, she highlighted the department's research arm, which according to her has helped the University of Ljubljana to become the third most successful university in researching business management processes in the world.