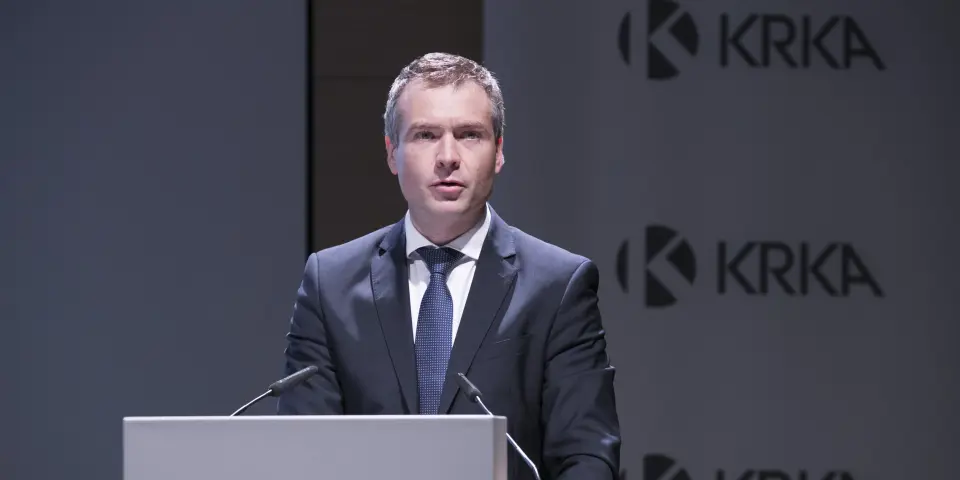 From ideas to pharmaceuticals
Ljubljana, 8 January - Pharmaceuticals, which people reach for as soon as they develop a headache or a sore throat, are becoming more advanced and effective with years of development, research, innovation and testing. Pharmaceutical companies that develop and manufacture medicines are keen to protect their innovation with patents, but this does not only protect their intellectual property, it also makes sure medicines are safe for use.
Despite its size, Slovenia plays an important role in the global pharmaceutical industry, as companies like Krka have taken their name across the globe and proved that scientific development does not depend on country size.
Krka was established in 1954 as the Krka Pharmaceutical Laboratory. It has since grown to become one of the leading producers of generic drugs. At the end of September, it had 11,226 employees and 188 temps. Krka has production facilities in Slovenia, Poland, Russia, Croatia and Germany.
According to rankings published annually by the newspaper Delo, Krka was the largest Slovenian exporter for four years in a row before slipping to second place last year. Its achievements have brought it numerous awards, including two for the most esteemed employer and for the best employer among large companies.
Most recently, Krka has received two golden diplomas given out by the Chamber of Commerce and Industry to best innovators for its quickly soluble imatinib tablet for treating cancer, and for its film coated tablets with crystal form of etoricoxib and the procedure for preparing a polymorphic form.
Krka's efforts in the technological development of production of pharmaceuticals have resulted in the factory of the year title, which was conferred by the business newspaper Finance on Krka's production facility Notol 2.
Big money industry
The pharmaceutical industry is big, a fact corroborated by revenue figures of the companies in the business. Krka alone generated nearly EUR 1.3bn in revenue in 2017, with its net profit topping EUR 150m, up more than 40% compared to the year before, indicating strong growth.
Figures for global players are even higher. Revenue of the Swiss multinational Novartis, which controls Slovenia's Lek, topped nearly EUR 44bn, and Germany's Bayer generated EUR 35bn in revenue. Moreover, Bayer last year took over the US agrochemical and agricultural biotechnology giant Monsanto for EUR 55bn.
The figures indicate the extent of damage that can be caused by violations of intellectual property in the pharmaceutical industry. While the exact extent is hard to assess, it is clear that it involves staggering numbers and can affect thousands of jobs.
From idea to patent
Slovenia's Krka develops its own products with innovative solutions and patent applications after the expiration of the patent owned by the producer of the original drug. "Innovation is not only important in development. At Krka, we live and breathe innovation at every step, which means in the supply chain, production of active substances and final products, drug registration, and marketing and sales," said Zvone Simončič, the head of research and development at Krka.
According to him, the procedure for obtaining the patent for an idea is extremely complicated and multidisciplinary; it involves experts from various fields, including pharmacy, chemistry, medicine, analytics, bioanalysis, mathematics, physics and mechanical engineering.
In the initial phase, the company determines what kind of a product it wants to develop. This is followed up by an analysis of all available information, which involves in great part patent applications of the company's competitors.
"What follows is the most interesting phase for researchers - research and development and validation of the prototype, where all innovative ideas are appraised. If successful, they are assessed in terms of production. Only solutions applicable to production are useful for the industry," Simončič said.
The industrial property department, "which helps in translating the know-how into patent application and later, through communication with patent offices, into the acquisition of the patent", is involved throughout the process.
According to Simončič, tackling new challenges involves new technologies, but they are always introduced as required by a new product, never vice-versa.
"New technologies are also linked with the analytics. Every year, we introduce new methods of analysis, which are getting increasingly accurate and allow for an increasingly good insight into the physical-chemical processes in the active substances and final pharmaceutical products," he said.
Patenting secures effective protection
Anja Golob Urbanc, a doctoral student and young researcher at the National Chemistry Institute, is also active in research in natural and technical sciences. While she is not active in the industry, Golob Urbanc highlighted the connection between research and industrial development as well as the importance of innovation protection.
"Researchers spend a lot of time, effort and energy on developing certain ideas. If we don't protect our work, others can continue our research and take it all the way to the final product. This would give them the funding for further research while leaving us empty-handed," she said.
ICYDK project
The feature is part of the project ICYDK (In Case You Didn't Know), implemented by the Technical Museum of Slovenia and partners with the support of the European Union Intellectual Property Office (EUIPO).
The main purpose and goal of the project is to raise awareness among young people about intellectual property, to try to influence their perception and appreciation of intellectual property, and to encourage them to respect copyright and recognise abuse, especially in the digital environment, and to encourage creativity and innovativeness in practice.