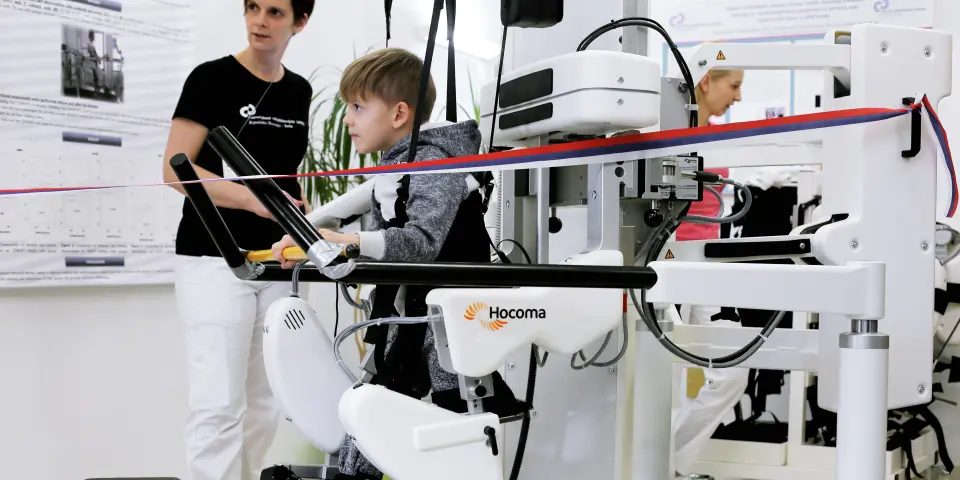 Soča rehab centre gets new robotised gait training device
Ljubljana, 7 January - The URI Soča rehabilitation centre in Ljubljana launched on Monday a new device for gait rehabilitation for severely impaired neurological patients. The Lokomat device provides supported, automated and computer-guided training for persons with impairments of the central and peripheral nervous system who are not able to stand or walk independently.
"The robot connected with virtual reality enables gait training for patients who would otherwise not be able to start it so early into rehabilitation," URI Soča medical director Helena Burger told the STA at the ceremony.
The device will make rehabilitation and its effects faster, as it ensured highly intensive learning with numerous repetitions of a steady and symmetric gait.
URI Soča director general Robert Cugelj added that they wanted to establish a centre of modern technologies by 2020, which would provide patients with services in line with the European rehabilitation guidelines.
The centre would provide rehabilitation with robotised equipment and virtual reality equipment at one place.
A patient using the Lokomat praised the device he uses three times a week for 30 minutes. He said the exercise was exhausting, but beneficial, as it helped him get closer to walking independently, which had seemed impossible at the start of the rehabilitation.
The purchase of the EUR 400,000 device was financed by the Health Ministry. Minister Samo Fakin said that the introduction of new medical technologies and therapeutic methods was important if patients in Slovenia were to be provided with best treatment.
Cugelj meanwhile noted that the biggest problem for URI Soča at the moment was development of neurological rehabilitation, as they needed a new facility. Waiting lines are manageable, but they are long when it comes to treatment of chronic pain.
The public healthcare fund ZZZS has already approved a new programme and Cugelj expects that the waiting times in this field will be completely eliminated in a few years.