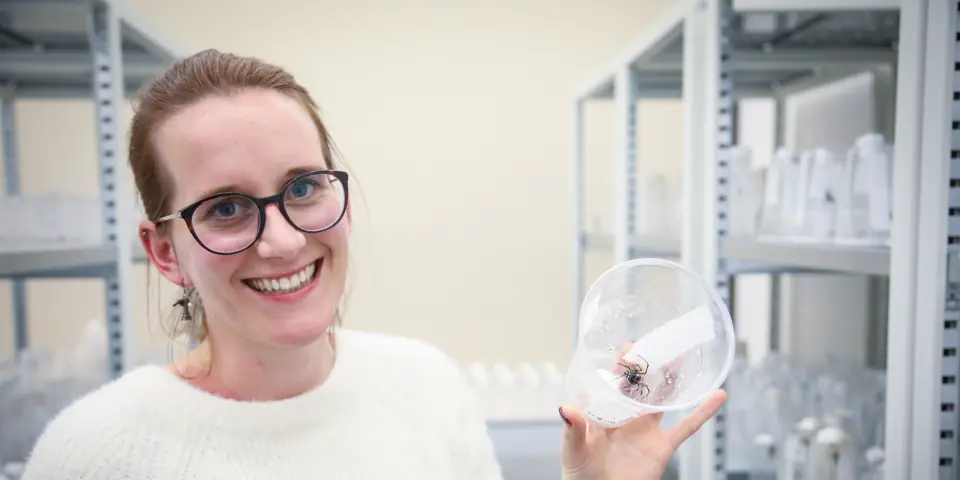 Slovenian Spiderwoman researching venom for treating chronic pain
Ljubljana, 18 January - Slovenian Lučka Bibič, known among friends as Spiderwoman, is researching spider venom for properties to treat chronic pain as part of her doctoral studies at the University of East Anglia. A true spider enthusiast, she has gone beyond pure research. Bibič has created a VR game called Bug Off Pain, has led workshops and made podcasts to bring science closer to the public. She received the Future Leaders award for her contribution to science last year.

Bibič, a graduate of the Ljubljana Faculty of Pharmacy, speaks about her work with a burning enthusiasm and says that the best thing about science is that "a new discovery can become a reality in a few years and that new ideas can potentially help an enormous number of people".
Chronic pain
According to Bibič, one in five people in the world suffer from chronic pain, a pain that persists even when the reason has been tackled or when it cannot be found.
The most effective painkiller at the moment is morphine, an opioid. In medicine, it is considered one of the most powerful natural analgesics, but it has a number of downsides, above all the fact that it is highly psychologically and physically addictive.
For instance, this is an extremely acute problem in the US, which has been fighting an opioid crisis for years. It is believed that the crisis has been caused by careless prescription of painkillers and the fact that some opioids can be bought over the counter.
In 2012, more than 280 million prescriptions were issued in the US for painkillers, whereas more than two million people in the country are addicted to opioids, the infamous drug family that includes heroin and fentanyl.
The US National Institute on Drug Abuse puts the daily death toll from opioid overdose to more than 115 people. In 2016, 42,000 people died from opioids in the US, which compares to 2,000 in the United Kingdom.
Seeking alternatives for morphine in spider venom
Bibič is trying to find in her doctoral research the substance that would be structurally unlike morphine and would be used to treat chronic pain without addiction. She hopes to find it in spider venom, more accurately in the toxins used to numb the spider's pray.
Bibič believes she can isolate those toxins in spider venom that shut down the pain in neurons in the brain. She studies the effects of specific toxins on the brain microglia and whether these toxins can shut down the part of the cell that transmits the signal for pain.
According to Bibič, the research is at an early stage at the moment. Once the toxin is found, it will take another 10 or 15 years before the substance could reach the patients and another 20 to 25 years before it will be available on the market.
Nevertheless, this would be a significant breakthrough in treating chronic pain as it could replace the highly addictive morphine.
Bibič - a versatile scientist among Future Leaders
Bibič joined the American Chemical Society's Future Leaders last year after being nominated by the Society's Chemical Abstracts Service. She was awarded the position for her work in research and in communicating science.
During her stint at the University of Cambridge, Bibič contributed to the creation of BBC's award-winning science radio talk show broadcast Naked Scientists with 10 articles and 15 podcasts.
She also designed a one-hour radio show on science's contribution to creating animated film, entitled Animation is the Reel Deal. The show was broadcast at BBC5 Live and the Australian ABC, hitting a record-breaking million downloads.
Following her stint at the Cambridge University, she was invited by the University of East Anglia to lead a doctoral workshop for communicating science.
Bibič went even further in communicating her work to the public; in 2017 she created a VR video game entitled Bug Off Pain in which the player is transported to the human brain to understand how people perceive pain. She unveiled the game at the Norwich science festival.
Communicating science
The young scientist believes that communicating science to the public is very important but far from simple. Bibič says that talking about what people do in their laboratories is hard, but it has to be learned. It requires motivation and encouragement, she added.
According to Bibič, the British education system encourages students to communicate their work and helps them with various workshops to hone their skills. In Slovenia, this part of science requires more attention, she added.
Overall, she finds the culture of communicating science in the UK very different and more encouraging than in Slovenia. This has helped her to "open communication channels" and has started to see that people find her work interesting.
Lučka Bibič
Bibič graduated from pharmacy at the University in Ljubljana and obtained a master's degree from the University of Copenhagen. She studied academic English in Sydney for a year and received in 2015 the prestigious BBSRC DTP scholarship for doctoral studies of molecular neuroscience at the University of East Anglia.
She participated in the Naked Scientists show at the Cambridge University, led scientific production workshops, created a VR game based on her doctoral studies and headed the CryoThaw winning team at YES2017, a British competition in biotechnology. She writes for the Journal of the American Chemical Society, works on her doctoral thesis and tweets as @LuckaBibic.