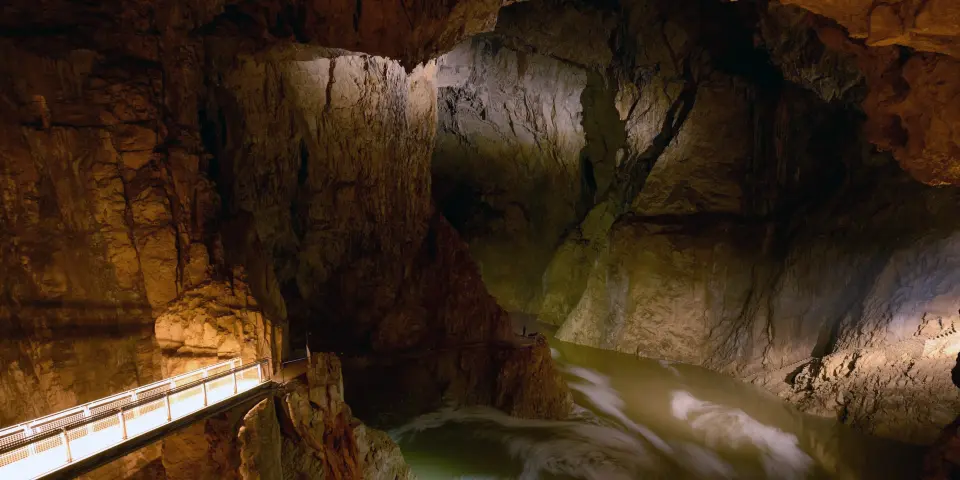 Two large passages discovered in Škocjan Caves
Divača, 28 January - Two large passages have been discovered in Škocjan Caves, the cave system in south-western Slovenia listed among the UNESCO natural and cultural world heritage sites. It is an important discovery as it will allow the studying of the Reka River, which flows through the caves, during high waters.
The passages, which measure between 30 and 50 metres in height and width and represent the former bed of the Reka, were discovered by cavers Luka Biščak, Albert Ličan and Jaka Jakofčič after a year and a half of exploration.
They found the way to the passages through the roof of the Martel's Chamber, the largest chamber in the cave system with a volume of 2.2 million m3. This actually makes it the largest discovered underground chamber in Europe and one of the largest in the world.
The passages are located some 70 to 80 metres above the current bed of the underground river, which enters the system near the village of Škocjan, flows underground for 34 km and resurfaces near Monfalcone in Italy.
Although large, the canyon ends with a relatively small siphon, which cannot deal with the enormous volume of water that pours into the cave after heavy rainfall, causing major flooding when water levels rise by up to one hundred metres.
This is why the discovery of the passages is important, as it will enable experts to study the river during high waters, and to learn about its water mysteriously siphoning off into the depths of the karst world, the operator of the Škocjan Caves Regional Park said on Monday.
The discovery also means that Martel's Chamber, located at the very end of the system, will be accessible from above for the entire year, and not only during the dry season, when the water level of the Reka River drops significantly.
It comes in the year when Škocjan Caves are celebrating 200 years since the first organised visits took place in the cave system.