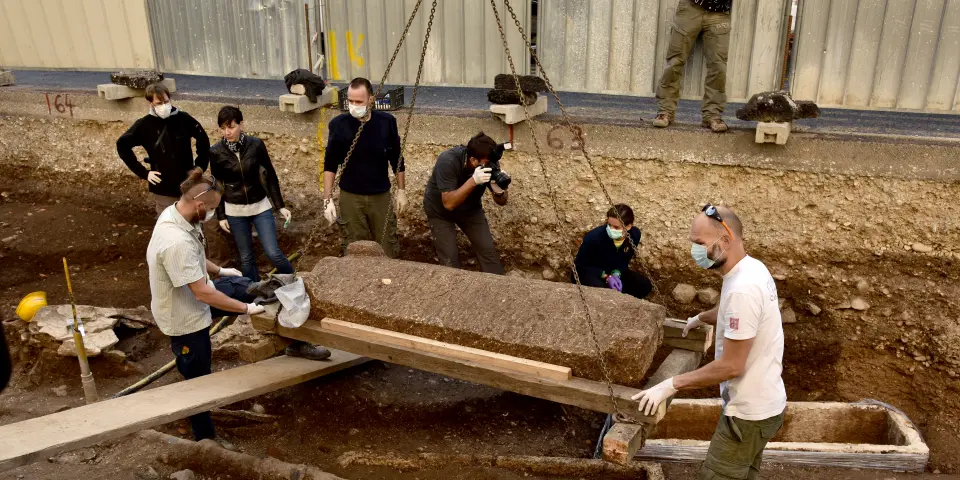 Stunning artefacts from Gosposvetska on show at City Museum
Ljubljana, 8 February - The ancient sarcophagus of a mysterious woman with a blue glass bowl that was discovered during the excavations in Gosposvetska Street in the centre of Ljubljana is now on show at the Ljubljana City Museum.
The sarcophagus of the woman, aged between 30 and 40, was one of the 40 found during the street's renovation in 2017 and 2018, but its place and contents indicate the woman was an important member of an early Christian community.
The details of the project, which has caught the interest of the National Geographic, were presented at a press conference on Thursday, launching the exhibition at the City Museum's treasury, which will be running until the end of March.
Archaeologist Andrej Gaspari explained that the mysterious woman's sarcophagus was located in a burial chapel, five by five metres in size, which itself was at the centre of a late-Roman cemetery complex containing more than 350 burials.
"More burials, exclusively sarcophagi, were later placed in the chapel, and later also first skeleton graves ... Later there appeared to have been burials focusing on this original chapel," Gaspari said.
The mysterious lady was found buried with a blue glass drinking bowl in her lap, in the upper part of her thighs. On her left hand she had two bracelets, made of black jade or jet, which was thought to have supernatural properties.
The archaeologists also discovered gold threads, but it not clear whether the woman was covered or whether she had a veil of a gold thread stitched fabric.
The drinking bowl is of deep blue colour with a Greek inscription on the inside reading: "Drink to live forever, for many years!". This indicates that it had originated from the south-western Asia Minor or the eastern Mediterranean, although it is impossible to establish its exact origin.
The bowl is thought to be dating from the late 3rd or early 4th century AD. The mausoleum was built after 276 AD and was torn down sometime before 325 AD. "This was the time of the worst persecution of Christians in our lands," Gaspari said.
The lady's sarcophagus was made of Neogene limestone just like all the other sarcophagi found in Emona, the Roman predecessor of Ljubljana. The sarcophagus has no decoration or inscription.
The analysis of the woman's remains did not suggest any particular pathology that would indicate the cause of her death. Gaspari said that they discovered marks of an old shoulder injury and some tooth decay.
Work on the interpretation and further analysis of the finds continues, while in time the artefacts will be included in the permanent collection of the City Museum.