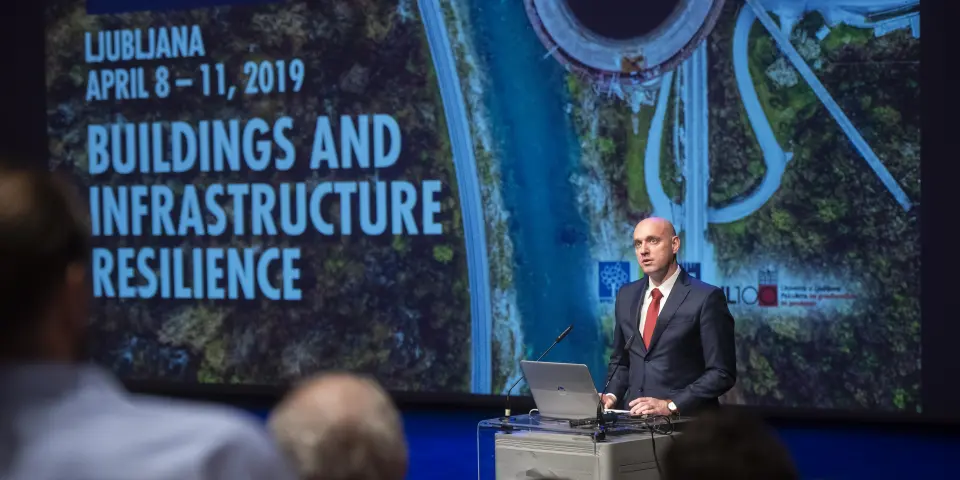 Resilience of buildings and infrastructure in focus of World Construction Forum
Ljubljana, 9 April - Around 700 experts from 51 countries launched three days of a debate on the resilience of buildings and infrastructure as the World Construction Forum got under way in Ljubljana on Tuesday. Speakers highlighted the need to put construction, an industry in the midst of profound change, on a sustainable footing.

Črtomir Remec, the president of the Slovenian Chamber of Engineers, said the forum addressed UN sustainable development goals and supported sustainable construction accessible to all.
The three-day programme is divided into six themes that mirror sustainable development goals: energy, advanced engineering, cultural heritage, disaster risk management, engineering capacity building, and digitally engineered built environment.
"Construction, a rather traditional industry, has been undergoing profound change. It is also an industry that strongly affects other industries, which is why it plays a key role in development. The question is how to manage it in a sustainable manner as the population increases," Remec said.
Simon Zajec, minister of the environment and spatial planning, noted that virtually everything was possible in construction nowadays, "but the question is whether it is sensible and whether the cost to the environment may be too high."
Minister Zajc designated the forum as a good opportunity to exchange experience, opinions, best practice and know-how.
This point was also raised by Matjaž Mikoš, dean of the Faculty of Civil and Geodetic Engineering, who stressed the importance of "knowledge and the promotion of creative thinking and innovation."
Marlene Kanga, president of the World Forum of Construction Organisations (WFEO), highlighted the contribution of construction to economic development as well as people's prosperity.
She said technology and development had to create solutions that contribute to waste reduction, reduce energy consumption and promote responsible resource management.
Ana Luiza Massot Thompson-Flores, Director of the UNESCO Regional Bureau for Science and Culture in Europe, added responsible construction in developing countries to the list of challenges that construction faces.
The forum features engineers, builders, investors, building managers, researchers, students, politicians and representatives of public administration.
The event's themes reflect six of the 17 UN sustainable development goals, with many practical examples of buildings around the world also presented.
The debates will also touch on engineering standards and regulations, which are particularly important in the event of natural disasters such as earthquakes.
According to Peter Fajfar, professor at the Faculty of Civil and Geodetic Engineering, the purpose of standards and regulations is to protect lives.
"We cannot prevent natural disasters, but we can mitigate their consequences," he said.
Fajfar warned that buildings which are not earthquake-safe should be retrofitted or replaced, in particular schools and hospitals. There are 14 schools in Ljubljana alone that fall into this category.
This task is even more daunting when it comes to multi-storey buildings, because it entails huge costs and complex logistics.
The forum, taking place at the Cankarjev Dom, is organised by the Slovenian Chamber of Engineers in conjunction with the Faculty of Civil and Geodetic Engineering and the World Forum of Construction Organisations.