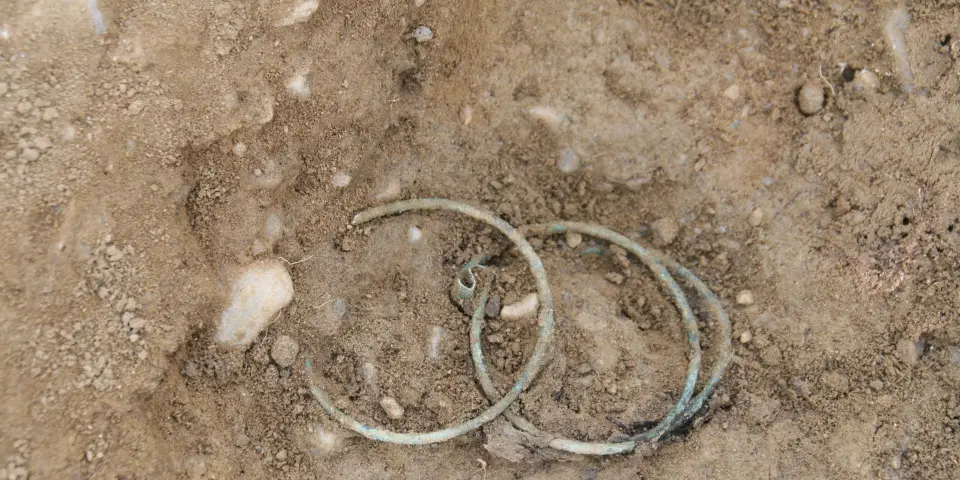 Medieval burial ground discovered in Pomurje
Tišina, 13 May - An team of archaeologists from the Pomurje Museum has discovered a medieval burial ground in Tišina, the first of its kind in the north-eastern Pomurje region. Some 50 graves were identified, although the team estimates there to be several hundred.
The most important artefacts found in the graves were various types of female jewellery, mostly headdresses and rings. Samo Sankovič, the leader of the team, says these belonged to the time of the Bijelo Brdo Culture, which inhabited the Pannonian Plain between the 10th and 12th centuries.
The discovery of this burial ground moves the start of the medieval history of Tišina, a town first mentioned in written records in 1347, back by at least 300 years.
Experts conducting geophysical research in the local church discovered that an even older church dating back to the time of the burial ground could be hiding beneath it.
Medieval and modern graves were discovered last year along the northern and southern walls of the Parish Church of Mary's Birth. Excavations are currently being conducted some 30 to 50 meters north of the church.
Metka Fujs, the director of the Pomurje Museum, noted that in the past 20 years, archaeologists had made groundbreaking discoveries.
Exceptional findings from all historical eras, from prehistoric times to the Middle Ages, have piqued the general public's curiosity, he said.