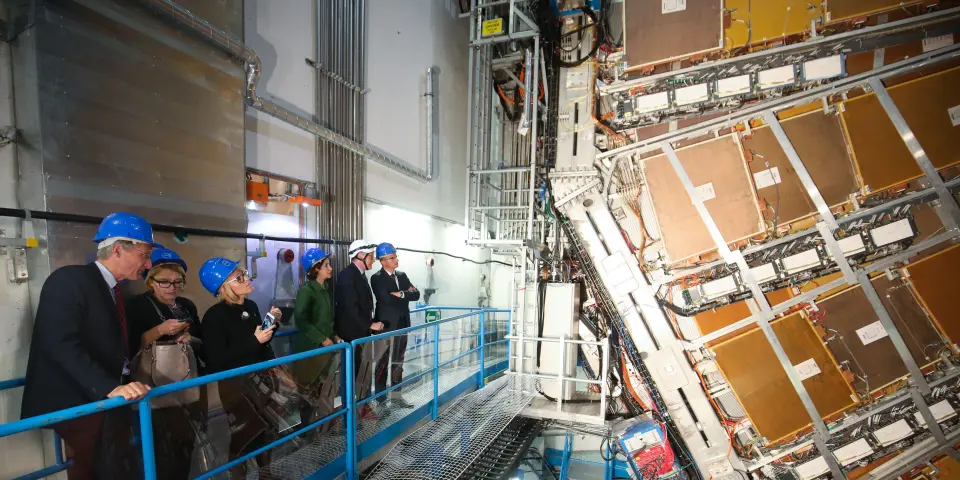 Slovenian government and company reps visiting CERN
Geneva, 9 October - Representatives of the government and Slovenian companies are visiting the European Organisation for Nuclear Research (CERN) in Geneva on Wednesday and Thursday as part of efforts by the government to boost the country's cooperation with this top research facility.
As part of the visit, an event entitled Day of Slovenian Industry is being held in CERN, allowing interested companies to gain insight in the research organisation and its projects and form contacts.
The Slovenian delegation is headed by Education Ministry State Secretary Jernej Štromajer and also features representatives of 24 Slovenian companies active in construction, technical services, electrical engineering, magnets, electronics, IT, vacuum, low temperatures, mechanical engineering, raw materials, healthcare, security and environment.
Around 20 Slovenian scientists currently cooperate with CERN, and Martin Steinacher, CERN director for finance and human resources, said as he addressed the event that there was no doubt that Slovenian companies could successfully cooperate with CERN as well.
Mitja Gorenšček of the Slovenian Chamber of Commerce and Industry (GZS), which co-organises the visit, added that Day of Slovenian Industry could be a turning point when it came to cooperation between Slovenian companies and CERN.
The event aims at proving that Slovenian companies could be partners in the most technologically advanced fields, added Ajda Cuderman, the director of the SPIRIT public agency for investment promotion, another co-organiser.
She hopes that the event would boost CERN's trust in Slovenia and Slovenian services and products, which "can contribute to CERN's activities and research efforts, and open new partnerships and opportunities".
The head of the Slovenian team on the ATLAS detector in CERN, Marko Mikuž noted that Slovenian scientists had been cooperating with CERN for 44 years, and that they had gained a lot from the cooperation with the organisation.
Štromajer said that Slovenian scientists had published more than 1,300 scientific articles on research in CERN, adding that the inclusion of Slovenian companies would also improve the cooperation between Slovenian science and businesses.
Since becoming associate member in 2017, Slovenia has been paying one million Swiss francs in fees annually, while full-fledged membership will cost the country 2.8 million Swiss francs a year.
Samo Tuma, representative of Slovenian companies for cooperation with CERN, said that Slovenia had a very low ratio between the investment and the value of realised contracts with CERN. The situation has improved somewhat in the last three years, he added.
According to Tuma, Slovenian companies must be more competitive, especially in terms of quality. The state needs to "find and sell niche products and know-how, get even closer to CERN and participate in it with excellent engineer workforce."
CERN representatives meanwhile presented to the Slovenian delegation the possibilities of participation in scientific and development activities and creation of innovative solutions, business opportunities, transfer of technology to industry and public tenders.
Individual meetings between representatives of companies and CERN were also held, and will continue tomorrow, when the Slovenian delegation will also take a look the Compact Muon Solenoid (CMS) and the Antiproton Decelerator (AD).
Speaking for the STA ahead of the visit, Education Minister Jernej Pikalo said that cooperation with CERN was important for Slovenia in terms of research, education and economy. While research cooperation is good, the government expects more from companies, he added.
According to him, five institutions and more than a dozen Slovenian scientists cooperate with CERN at the moment, and several Slovenian companies act as CERN suppliers and hardware developers.
Potential for cooperation is much greater, for example in software development, engineering, optics and photonics, but it remains largely untapped because companies fail to recognise opportunities CERN provides, Pikalo believes.