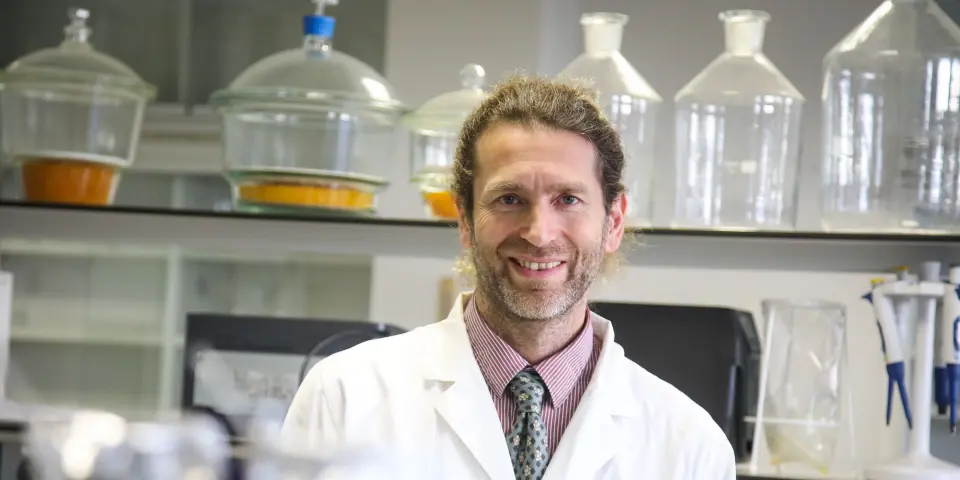 Medicinal plants can even be harmful to health
Ljubljana, 8 January - Since ancient times people have used medicinal plants for food and to help them cure various diseases and ailments. Demand for herbal medicinal products is booming, but pharmacologist and researcher Samo Kreft says people should exercise caution when buying such products since natural does not always mean beneficial.

Samo Kreft, a professor at the Ljubljana Faculty of Pharmacy, has made medicinal plants the focus of his research. He integrates folk-medicine wisdom with conventional medicine and pharmaceutical research, trying to find a balance between scientific and traditional. He respects nature, but does not see it as an almighty healer of all diseases.
"I don't base my research on the assumption that plants exist for people to use them. Plants are the result of evolution and their being useful for humans is just a coincidence," says Kreft, though he is quick to add that he is aware of the psychological power and placebo effect medicinal plants can have. "That's why I don't want to put all medicinal plants in tablet form. I think it's good some remain in more archaic forms, as teas that we make ourselves."
Booming interest in natural
Demand for natural products is booming, which Kreft believes is good since it leads to increased interest in general health and healthy diets. The downside of this trend is that people, getting a lot of information online, are quickly led to believe they know more than the experts - they stop heeding instructions and instead of taking synthetic drugs they pick herbs which are not always the right match or can be even harmful.
Kreft believes that there is a lot of room for improvement in the dialogue between lay people and experts. "It is vital that the public respects experts' opinions, but experts need to understand people's prejudices, take them into account and patiently explain when it is advisable to take official medicines or get vaccinated," he says.
Natural does not automatically mean safe
All that is natural is not necessarily healthy as well, notes Kreft. There are some extremely poisonous plants in nature, chronic toxicity being particularly problematic - such plants are only poisonous when used for a long period of time. Since their harmful effects are long-term, people do not notice them or they do not link them to the right cause and thus keep using those plants.
Kreft and his colleague Andrea Šetina have recently published an article (in Slovenian) about potentially poisonous plants which can cause disease or lead to liver failure. They say that an extensive herbal product portfolio in pharmacies and online, which often circumvents security guidelines due to lax control, is one of the main challenges for the pharmaceutical profession.
Medicinal herbs and compounds that cause liver damage
The article puts the spotlight on cases of medicinal herbs and compounds that have harmful effects and can cause liver damage, including tea tree leaves, aloe vera, senna, greater celandine supplement, pennyroyal, wall germander and pyrrolizidine alkaloids compounds. Those compounds are present in more than 350 plant species, most notably in the symphytum, coltsfoot, butterbur and ragworts, and long-term use may damage the liver.
In the past five years, experts have noted that those alkaloids were present in products where they had not been detected before, according to Kreft. They assume that they occur as impurities: if ragworts or weeds containing those alkaloids are growing alongside St John's-wort in a field, the latter can contain the harmful alkaloids as well, Kreft explains.
Due to lax control, toxic ingredients and heavy-metal pollution, it can be particularly dangerous to buy products outside pharmacies or online. Kreft advises buying such products through ways that ensure maximum control, best in pharmacies, and "avoiding those who promise too much, since there are no miracles".
Silver fir
In the past, Kreft focussed his research on numerous medicinal herbs, including echinacea and buckwheat. Now he focuses on researching silver fir branch extract, which has turned out to have many applications.
In cooperation with the Faculty of Medicine in Maribor, he has determined highly beneficial effects for treating diabetes since its extract hampers the transport of glucose from the intestines to the blood system, reducing extreme blood sugar spikes after meals. The extract also improves the body's sensitivity to its own insulin so even if the body produces small quantities of insulin, these suffice.
Kreft is also cooperating with the Faculty of Medicine in Ljubljana in researching the effects of the extract on cardiovascular diseases. So far, they have conducted a number of studies on the hearts and vascular systems of animals, recently also on the human vascular system, with a clinical trial with volunteers currently underway.
A study by the School of Applied Sciences' Beauty Institute has shown that using the extract externally improved the skin's function and appearance. Preliminary results of studies on the extract's efficacy in athlete regeneration and treatment of inflammatory diseases look promising as well.
Too rigid a distinction between synthetic drugs and medicinal herbs
Kreft believes that the line between the pharmaceutical domain or synthetic drugs and the people's domain or medicinal plants is drawn too rigidly in people's minds. "These two domains blend. The pharmaceutical industry processes and sells medicinal plants, while in certain disease cases medicinal plants cannot produce a healing effects as potent as synthetic drugs can achieve," says Kreft.
One such example is atropine, an alkaloid isolated from belladonna which is used in medicine, including in anaesthesia, cardiology, ophthalmology and the treatment of organophosphate poisoning. According to Kreft, the belladonna plant must belong to the pharmaceutical domain because it needs to be properly refined and its dosages correctly given, otherwise it would be dangerous.
On the other hand, there are medicinal plants which have been proved to be more effective than synthetic drugs in some cases. The St John's-wort plant turned out to be more effective in treating some of the most common types of depression, while in other types of depression its effects have not yet been determined or have turned out to be worse than those of synthetic drugs.
This goes to show the importance of high-quality medicines. "Every St John's-wort will not necessarily have beneficial effects. It has to be of equal quality and used the same way as during the studies which have proved its positive effects."
Medicinal plants in food
Medicinal plants are not confined to medicines, they are also widely used in food. Garlic is a medicinal herb as well as a nutrient, the same goes for thyme.
Kreft writes about medicinal herbs and food on his web page Lačna Bučka (in Slovenian), which he has recently launched together with Darja Kolar. The site provides vegan recipes, accompanied by intriguing and educational notes and backed by scientific sources that open new perspectives on familiar foods, bust myths, and provide readers with key terminology for understanding food better.
The web page was launched to dispel the myth that a plant-based diet is boring and lacks in nutrients such as proteins, says Kreft, adding they wish to encourage people to include vegetables in their diets as much as possible. This is the only way for people to "help their bodies and the environment", he says.