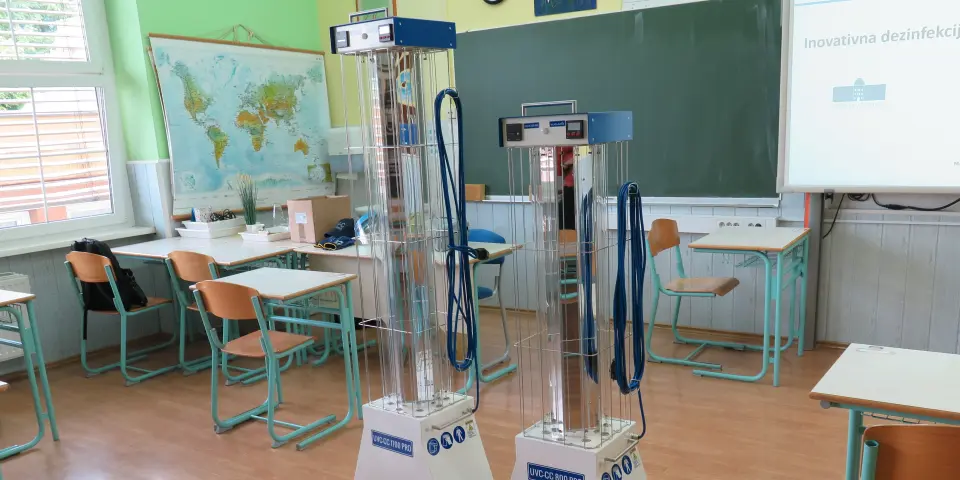 Slovenian company develops novel disinfecting device
Selnica ob Dravi, 28 May - The Hoče-based company Sloluks has developed an innovative device for disinfecting spaces such as schools, kindergartens, companies, bars and restaurants, hotels and homes. The device uses the same ultraviolet technology that is used for disinfecting hospitals and labs, but it is described as much more user friendly.

Ultraviolet light, specifically UV-C radiation, has been used to remove bacteria, moulds and viruses in hospitals and labs for years, and in recent months it has been used to clean buses in Hong Kong, and passenger aircraft.
Using this technology, Sloluks has developed a portable, easy-to-use, safe and cost-efficient device that is suitable for broad use.
The device, which can clean a school classroom of 99.9% of impurities in a matter of minutes, according to Sloluks CEO Martin Vovk, does not produce the potentially hazardous ozone like some similar devices that are sold online.
It also automatically shuts down if it detects living organisms in the room.
The Slovenian-developed and -produced device starts at under EUR 10,000.
The device will be tested at the Selnica ob Dravi primary school in eastern Slovenia. Mayor Vlasta Krmelj said the municipality was aware of the importance of testing for innovation and improving of products that bring long-term benefits to communities.
The school hopes the device will enable it to use less chemicals for cleaning, thus creating a healthier environment for children while also cutting costs.