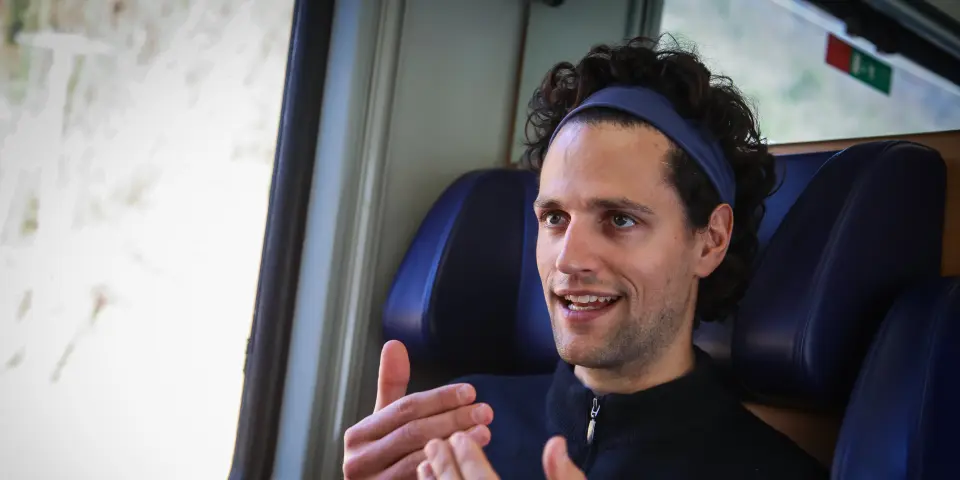 Environmental economist Sonnenschein: CO2 emissions drop in a crisis, but eventually increase again
Ljubljana, 13 August - Due to industrial production and public life grinding to a halt, the coronavirus pandemic also caused a drop in carbon dioxide emissions, one of the main culprits for climate change. But, as environmental economist Jonas Sonnenschein warns, such drops in harmful emissions happen in every economic crisis, and emissions eventually increase again.

The novel coronavirus (SARS-CoV-2) pandemic, which causes a disease the whole world has been dealing with in recent months, brings many human victims, suffering and uncertainty, while measures for restricting the epidemic cause major disruptions of the economic system. Economic activity is slowing down due to quarantine, travel bans, closure of companies and steep drops in numerous service sectors.
In all this global tragedy, consumption is decreasing because of the restrictive measures, as are carbon dioxide emissions, against which the world has been trying to fight more or less unsuccessfully in recent years. First estimates show that since the coronavirus outbreak in China, the largest polluter in the world, carbon dioxide emissions have decreased by as much as a quarter compared to the same period last year.
Emissions of harmful gases drop during every crisis
However, reduction of emissions during a crisis is nothing new, says environmental economist Jonas Sonnenschein from Germany, who lives with his family in Germany. Sonnenschein studies climate and energy policies, and as part of the environmental NGO Umanotera he also deals with sustainable life choices, in particular in air travel.
As he has told the STA in an interview, global carbon dioxide emissions drop during major economic crises, as there is a connection between economic development and emissions, but emissions return eventually. Although it seems that this crisis is an opportunity to depart from increasing greenhouse gas emissions, past experience says that this is very unlikely.
It is also Glen Peters, research director at the Center for International Climate and Environment Research (CICERO) in Oslo, who warns that financial crises only postpone growth in emissions for a few years at best. There may be structural changes, such as the shift to nuclear power after the petroleum crisis in the 1980s, but data show that emissions continue to grow.
Emissions decreased also during the last major financial crisis in 2008, but they started growing again already in 2010. What influenced this quick restart in growth of emissions, among other things, were the lowering of energy prices in order to avoid pressure for structural changes in energy consumption and major government investments to incentivise fast economic recovery. Also contributing to this were the effects of a decade of high economic growth in developing countries, which was a strong basis for fast recovery after the financial crisis, and fast return to high emission rates, Glen Peters and co-authors write in an article in Nature Climate Change (LINK!!!!) in 2012.
Jonas Sonnenschein thus expects that there will be a similar pattern this time as well, but any predictions are currently very uncertain, as development depends on many factors - from the magnitude of the pandemic and duration of economic crisis to financial incentives and other government economic stimulus measures.
It is also completely possible that the past economic crises will not be comparable to the current one, which is something completely new and unpredictable for the history of modern humans.
An animation by the European Space Agency showing a 10-day fluctuation of emissions of nitrogen dioxide, whose main source is traffic.
Air travel - one of the biggest climate threats
The consequences of the measures to stem the coronavirus pandemic, new work patterns, fear of travel and spreading of the disease could bring significant long-term changes in the aviation industry, one of the largest environmental polluters in the world.
Air travel at the global level contributes around 5% of greenhouse gas emissions and thus represents one of the greatest challenges in fighting climate change. What is more, Sonnenschein says that research also shows that air travel is one of the major culprits for the fast and uncontrolled global spreading of disease around the world, including Covid-19, which is caused by the novel coronavirus.
Current policies favour the sector, as it is supported by various subsidies, instead of making it more expensive by introducing taxes on aviation fuels and taxes on international flights, and focusing on developing alternatives, such as rail transport.
In future attempts to salvage companies in the aviation sector, which will be inevitable, it will thus be necessary to connect aid with environmental criteria. At the same time, aid will need to be focused on getting workers paid and not airline owners getting profit, said Sonnenschein.
"In the current situation, introducing strict climate policies in the aviation sector seems less likely than ever before. This is why all we can do after the end of the pandemic is to decide as individuals whether we want to use air travel during a climate crisis," he added.
Green growth policies do not suffice
Sonnenschein last year finished his doctoral studies at Lund University, in which he dealt with green growth and climate change policies, to establish that measures for fighting climate change are not decisive and ambitious enough.
He is convinced that green growth policies which aim at reducing emissions on the one hand and economic growth on the other do not suffice, as there is no empirical evidence that they work. If the ambition to achieve the climate goals is serious, then instruments for achieving them are required, and not instruments which primarily aim at economic efficiency.
Green growth policies do not want to threaten economic growth, which is why in the background of policy-making there is always the question of "whether this really pays off, whether it pays off to invest in decarbonisation technology, or is this too heavy a burden for the economy?"
Instead of aiming at higher growth, Sonnenschein thinks the goal should be to achieve the climate objectives and other important social objectives. "If growth decreases because of this, we will have to live with that. And we will probably live with it better than if we were focused on economic growth," he is convinced.
De-growth - movement which questions the idea of infinite growth
Departing from the growth model is one of the principal ideas of the de-growth theory, which in recent years has gradually entered the core of discussions on the future of our planet, and which questions the established concepts such as welfare, development, growth, GDP. The theory, which is still loosely defined, in general advocates the idea that economic growth is a bad indicator of the overall progress and welfare in society. A society which lives in line with the de-growth theory meanwhile focuses on satisfying the basic human needs and securing a high quality of life, while reducing consumption of resources and excessive consumption.
"It is a slow-down - so that we do not constantly work more with the goal of always having more, but to reduce consumption and move towards collaborative consumption, where some items, like tools or cars, are shared," Sonnenschein explained.
To claim that it is too late is the last stage of climate change denial
He is critical of the goal to limit the temperature increase under 2 or 1.5 degrees Celsius compared to the pre-industrial age by the end of the century, as he believes this is impossible. This goal would require sucking CO2 from the atmosphere in immense quantities, while relying on "technology that is science fiction".
Nevertheless, Sonnenschein stresses that everything should be done to achieve it. To claim that it is too late is the last stage of climate change denial, according to him. What is required to reach this goal is patience, bottom-to-top initiatives, positive stories and, in particular, adequate policies, which must enable a different consumption model.